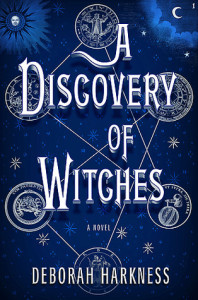 Title: A Discovery of Witches (All Souls Trilogy #1)
Author: Deborah Harkness
Genre: Paranormal, Fantasy
Publisher: Viking Penguin
Publication Date: Feb. 2011
Pages: 579
Buy: Amazon

It begins with absence and desire.
It begins with blood and fear.
It begins with a discovery of witches.

When historian Diana Bishop opens a bewitched alchemical manuscript in Oxford's Bodleian Library it represents an unwelcome intrusion of magic into her carefully ordinary life. Though descended from a long line of witches, she is determined to remain untouched by her family's legacy. She banishes the manuscript to the stacks, but Diana finds it impossible to hold the world of magic at bay any longer.

For witches are not the only otherworldly creatures living alongside humans. There are also creative, destructive daemons and long-lived vampires who become interested in the witch's discovery. They believe that the manuscript contains important clues about the past and the future, and want to know how Diana Bishop has been able to get her hands on the elusive volume.

Chief among the creatures who gather around Diana is vampire Matthew Clairmont, a geneticist with a passion for Darwin. Together, Diana and Matthew embark on a journey to understand the manuscript's secrets. But the relationship that develops between the ages-old vampire and the spellbound witch threatens to unravel the fragile peace that has long existed between creatures and humans—and will certainly transform Diana's world as well.
Oh the awesomeness of this book/series!  This is the third time I'm reading it, in preparation for the release of the final book, The Book of Life, this July.  I bought the e-book while I was waiting on line at an audition (story of my life) and once I started, I could not stop.
The story starts off with historian and witch Diana Bishop (yes, of those Bishops from Salem, Mass.) who comes across a manuscript in the Bodleian Library at Oxford.  After calling the book up and back to the stacks, fantastical creatures (daemons, witches, vampires) start flocking to Oxford, all wanting something from the book and Diana.  One of whom is a certain Vampire named Matthew de Clairmont.  Matthew and Diana are faced with difficult decisions as to what their love and the manuscript mean not only for their future, but that of all the fantastical creatures in their world.
It was so refreshing to have an intelligently written book because that's what this is–intelligent.  The plot is well driven and each of the characters are so rich and diverse you just kept reading for more.  I loved that Diana was a reluctant heroine.  Because of her past, she never had any desire to be a witch.  Throughout the story, she's forced to face that past, but not without the help of her vampire, Matthew.  Matthew and Diana's relationship (a forbidden one in their world) had a real sense of maturity.  Granted they were older (in their thirties), but it was so wonderful not having characters that are automatically soul mates the minute they meet; never having gone through heartbreak or even tragedy.  After all, aren't those heartbreaks, tragedies, and life experiences, what shape us and help us decide who and what we want to spend the rest of our lives with?  The book definitely deals with some major themes that are prevalent today, especially about love and who we are allowed to love.  All the secondary characters–Matthew's mother, Ysabau; Diana's Aunt Sarah and her partner Emily, Matthew's vampire son Marcus (omg Marcus!) and his moody lab assistant, Miriam–were fantastic and brought such a great mix to the story.  I would love to see a series just on Marcus alone.  ::sigh::
Do yourself a favor.
Go read it.
But just so you know, you're going to want to buy the next book in the series, Shadow of Night, the second you finish this one.  Believe me, it's even better and that's saying something.