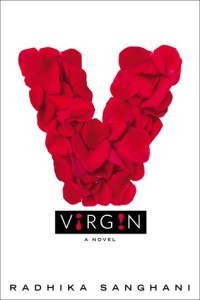 Title: Virgin
Author: Radhika Sanghani
Genre: Contemporary, Woman's Fiction
Publisher: Berkley Penguin
Publication Date: Aug. 5, 2014
Pages: 304
Buy: Amazon

 Okay, I admit it…I didn't do it.

Yet.

This is normal, right?  I mean, just because everyone I know has talked like they've already done it doesn't mean that they're telling the truth…right?

It's not like I'm asking for that much. I don't need the perfect guy. I don't need candlelight or roses. Honestly, I don't even need a real bed.

The guys I know complain that girls are always looking for Mr. Right—do I have to wear a sign that says I'm only looking for Mr. Right Now?

Sooooo…anyone out there want sex? Anyone? Hello? Just for fun?

I am not going to die a virgin. One way or another I am going to make this happen.

Hey, what have I got to lose? Besides the obvious.

Meet Ellie, 21 years old, a college student–and a virgin, but not by choice.  The heroine of the most original comedic novel in years, Ellie is on a mission to get rid of her V card no matter what it takes.  Whether she succeeds (or not), one thing is certain–you'll be talking about Ellie, and laughing about things you thought you could only share with your best friends.
I knew I was going to love this book when I saw the dedication page:
"To anyone who has ever gone through the pain of a Brazilian wax"
Amen sister!