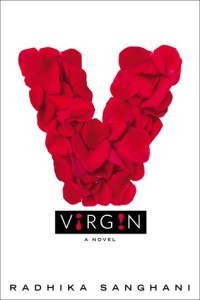 Title: Virgin
Author: Radhika Sanghani
Genre: Contemporary, Woman's Fiction
Publisher: Berkley Penguin
Publication Date: Aug. 5, 2014
Pages: 304
Buy: Amazon

 Okay, I admit it…I didn't do it.

Yet.

This is normal, right?  I mean, just because everyone I know has talked like they've already done it doesn't mean that they're telling the truth…right?

It's not like I'm asking for that much. I don't need the perfect guy. I don't need candlelight or roses. Honestly, I don't even need a real bed.

The guys I know complain that girls are always looking for Mr. Right—do I have to wear a sign that says I'm only looking for Mr. Right Now?

Sooooo…anyone out there want sex? Anyone? Hello? Just for fun?

I am not going to die a virgin. One way or another I am going to make this happen.

Hey, what have I got to lose? Besides the obvious.

Meet Ellie, 21 years old, a college student–and a virgin, but not by choice.  The heroine of the most original comedic novel in years, Ellie is on a mission to get rid of her V card no matter what it takes.  Whether she succeeds (or not), one thing is certain–you'll be talking about Ellie, and laughing about things you thought you could only share with your best friends.
I knew I was going to love this book when I saw the dedication page:
"To anyone who has ever gone through the pain of a Brazilian wax"
Amen sister!
Feeling left out of the crowd, Ellie is determined to lose her virginity.  Along with the help of her friends Emma and Lara, she is determined not to end her college career still holding onto her V card.
I seriously could not stop laughing through this entire novel.  This book felt like you were having a conversation with your girlfriends, which I loved.  I started to wonder if Ms. Sanghani had been listening to our conversations since we were teenagers…
The situations that Ellie found herself in were hysterical and outrageous, but not to the point of non-believability (which is a pet peeve of mine in a lot of chick lit).  I was dying the first time Ellie was forced to buy condoms:
"I was about to reach for the package when I realized they came in different sizes. Oh God. How the hell was I going to be able to buy the right size? Firstly, I had no sodding clue what size Jack would be, and secondly, even if I did, wouldn't whatever I chose just offend him? He probably wasn't a large because James Martell had been bigger than him, but to get a small seemed rude.  I took a deep breath and decided that the only possible solution was to buy a medium pack.  Why couldn't they just make them 'one size fits all' like with woolly hats?"
Ellie went through situations that every girl/woman has gone through/pondered/suffered.  One of my favorites was agonizing over texting a guy:
"Every time my phone vibrated, I pulled the screen open expectantly.  Eventually, mid-Tuesday, I decided to take matters into my own hands and send him a message.  I was a twenty-first-century female–why should I sit here waiting for him to message? Hell, he was probably twiddling his thumbs at home wondering why I hadn't messaged him yet.  I asked him how he was and if he wanted to meet later in the week.
After ten hours of tension and stress, he finally replied, saying it would be good to meet up this weekend, but he'd have to let me know when, and that he was well and how was I? My face lit up the second I got his message.  He wasn't blowing me off–he was just busy and he still wanted to see me.  I decided not to reply for a while, so I could prolong the feeling of calmness and contentment his message had provoked.  I knew the second I replied, the tables would turn, and I'd sit in a state of angst waiting for his response."
I think we've all been there, right ladies?
The only issue I had with this book was Ellie tended to be a bit self-pitying (which was one of the issues in the storyline) and it got to be a bit annoying after a while.  Overall though, this was a funny, quick, and enjoyable read.  Read it, then recommend it to your girlfriends and go out for some cocktails to commiserate over the plight that we women go through for the sake of love, men, and the state of our bikini lines.