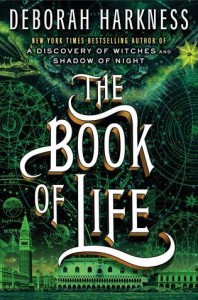 Title: The Book of Life (All Souls Trilogy #3)
Author: Deborah Harkness
Genre: Paranormal, Fantasy
Publisher: Viking Penguin
Publication Date: July 15, 2014
Pages: 576
Buy: Amazon

After traveling through time in Shadow of Night, the second book in Deborah Harkness's enchanting series, historian and witch Diana Bishop and vampire scientist Matthew Clairmont return to the present to face new crises and old enemies. At Matthew's ancestral home at Sept-Tours, they reunite with the cast of characters from A Discovery of Witches—with one significant exception. But the real threat to their future has yet to be revealed, and when it is, the search for Ashmole 782 and its missing pages takes on even more urgency. In the trilogy's final volume, Harkness deepens her themes of power and passion, family and caring, past deeds and their present consequences. In ancestral homes and university laboratories, using ancient knowledge and modern science, from the hills of the Auvergne to the palaces of Venice and beyond, the couple at last learn what the witches discovered so many centuries ago.
This is how I felt about this book:

I'm in mourning that this series is officially over.
WHAT a way to go! This was such a great conclusion to a fantastic series.  Deborah Harkenss manages to wrap everything up perfectly.
Matthew and Diana return from the past to heartache and struggle to find the missing pages from Ashmole 782.  While receiving help from family and friends, they also delve deeper into researching blood rage and dealing with Diana's pregnancy, all while fighting the Congregation.
The character development and interaction in this book is better than ever.  We see our usual familiar faces (Marcus ::sigh::), while revisiting some unexpected ones as well.  I love that Matthew and Diana, although far from the normal couple, struggle through issues that every newly-wed goes through.  In doing so, it humanizes them.  We also realize that they are at war, but it's not your average war.  Instead of an all out battle, it's fought in libraries, the web, and through espionage.
We really see the characters and the story come full circle.  We learn that the little things in book one become major revelations in book three.  Twists and turns you never saw coming.  I had more than one "omg!" moment in this book.
I'm not going to give anything away, but the conclusion to the story gave that "close-the-book-with-a-really-content-sigh" type of feeling.  Ms. Harkness left some hints as to possible continuations, but whether or not she follows through with them is yet to be seen (Please do though!).
Brava Ms. Harkness. Take a well deserved bow.
Nowpleasegowritesomemore.