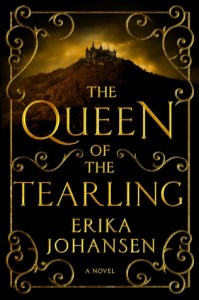 Title: The Queen of the Tearling (The Queen of the Tearling #1)
Author: Erika Johansen
Genre: Fantasy, YA
Publisher: Harper
Publication Date: July 8, 2014
Pages: 432
Buy: Amazon

On her nineteenth birthday, Princess Kelsea Raleigh Glynn, raised in exile, sets out on a perilous journey back to the castle of her birth to ascend her rightful throne. Plain and serious, a girl who loves books and learning, Kelsea bears little resemblance to her mother, the vain and frivolous Queen Elyssa. But though she may be inexperienced and sheltered, Kelsea is not defenseless: Around her neck hangs the Tearling sapphire, a jewel of immense magical power; and accompanying her is the Queen's Guard, a cadre of brave knights led by the enigmatic and dedicated Lazarus. Kelsea will need them all to survive a cabal of enemies who will use every weapon—from crimson-caped assassins to the darkest blood magic—to prevent her from wearing the crown. Despite her royal blood, Kelsea feels like nothing so much as an insecure girl, a child called upon to lead a people and a kingdom about which she knows almost nothing. But what she discovers in the capital will change everything, confronting her with horrors she never imagined. An act of singular daring will throw Kelsea's kingdom into tumult, unleashing the vengeance of the tyrannical ruler of neighboring Mortmesne: the Red Queen, a sorceress possessed of the darkest magic. Now Kelsea will begin to discover whom among the servants, aristocracy, and her own guard she can trust. But the quest to save her kingdom and meet her destiny has only just begun—a wondrous journey of self-discovery and a trial by fire that will make her a legend…if she can survive.
Hmmm…I don't know how I feel about this book.
Kelsea was raised in hiding by her foster parents Barty and Carlin to be the next Queen of Tearling.  On her nineteenth birthday she is escorted on a perilous journey by Mace and the rest of the Queen's Guard to the Keep, where she will rule.  She faces assassination attempts from her Uncle, the Regent, and the threat of the Red Queen in the neighboring Mortmesne.
I have to be honest, I was intrigued by the plot (because this is totally up my alley!), but I mainly picked it up because I saw that Warner Bros. and David Heyman (Harry Potter producer) acquired the rights with Emma Watson attached to star.  I don't know if this affected my view of the book or not, but I kept trying to picture Emma as Kelsea and I just didn't see it. Kelsea is constantly described as plain, not that thin, and almost mannish in appearance.  Emma is just too pretty, but I know, I know it's Hollywood and they need to sell tickets.  I'll try and wait to pass judgment until after the movie comes out.
Now, onto the book!
It started out great, but it got a lot darker as it progressed.  I wasn't really expecting that so it caught me a bit off guard.  This book deals with some heavy issues for YA such as slavery, sex, rape, and language.  Don't get me wrong, I've read books that are far more graphic (Game of Thrones anyone?), I just wasn't expecting it in a YA novel.  Adult or New Adult yes. YA, no.
Another issue I had was the setting/world building.  At first, you think it's a completely new land/world, but then contemporary things are mentioned such as "the seven books of Rowling" and the "Hobbit".  Even France and America were mentioned.  I came to the conclusion that Tearling was based on a new land discovered in our world that lost most of it's technological advancement?  At least, I think it is?  It was a bit confusing.
Those issues aside, the characters were great.  Kelsea really comes into her own and you can't help but root for her as she takes control of her kingdom.  I loved the complicated Mace, the captain of her Queen's Guard, and the enigmatic "the Fetch", king of thieves.
You can tell that this is a first in a trilogy, as Ms. Johansen left many questions and mysteries still unanswered.  I will definitely be reading the sequel, I was just a bit underwhelmed with this one.