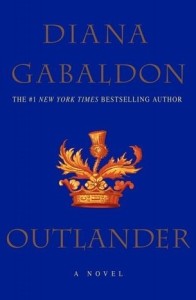 Title: Outlander
Author: Diana Gabaldon
Genre: Historical Fiction, Fantasy, Fiction, Romance, Mystery (aka everything!)
Publisher: Orig. published by Delacorte Books
Publication Date: 1991
Pages: 640
Buy: Amazon
TV Series: Season 1 (Volume 1) Season 1 (Volume 2)

The year is 1945. Claire Randall, a former combat nurse, is back from the war and reunited with her husband on a second honeymoon–when she walks through a standing stone in one of the ancient stone circles that dot the British Isles. Suddenly she is a Sassenach–an "outlander"–in a Scotland torn by war and raiding Highland clans in the year of Our Lord…1743.

Hurled back in time by forces she cannot understand, Claire is catapulted into intrigues and dangers that may threaten her life…and shatter her heart. For here she meets James Fraser, a gallant young Scots warrior, and becomes a woman torn between fidelity and desire…and between two vastly different men in two irreconcilable lives.
Where do I even begin with this amazing book?!
My friend Christie had been trying to get me to read this for a while, but I was hesitant because of the whole time travel aspect.  I finally gave in a few years ago and read it–I'm so glad I did.
Clare Randall is transported through time to 1743 Scotland where she meets a certain Scottish Highlander named Jaime Fraser.  She's forced to choose between Frank, her husband in 1945, and Jaime, who captured her heart in 1743.  She struggles through political plots, intrigue, battles, and poor plumbing.
This book had it all.  In fact, when Diana first published it, there was difficulty categorizing it into a specific genre since it delves into so many.  There's truly something for everyone.  If you're hesitant like I was because of the whole time travel aspect, there's so much more to these books than that.  I'd like to say as huge as the time travel is in the plot, the book is really not about that.  It's more about the relationships between the characters and the history of a country and a people that should not be forgotten.
I read all 7 books in a week (the 8th book just came out this June).  Each book is upwards of 700 pages and believe me, you fly through them!  Diana's richness to detail and captivating characters make it a book you never want to put down.  No wonder it was developed as a TV series for STARZ.  I linked the first episode below (it officially premieres Aug. 9th, but they've released the first episode for free a week early so we can all bask in the gloriousness).  So far, they've done a fantastic job of staying true to the novel.
Oh, for those of you who haven't been introduced to Sam Heughan who plays Jaime Fraser, you're welcome.
Go read this series. Then watch the first episode.
You'll all be wishing you were Sassenachs by the end of it.