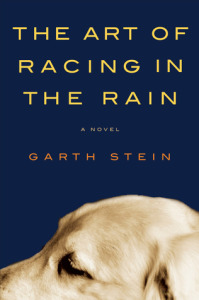 Title: The Art of Racing in the Rain
Author: Garth Stein
Genre: Fiction
Publisher: Harper Collins
Publication Date: May 13, 2008
Pages: 321
Buy: Amazon

Enzo knows he is different from other dogs: a philosopher with a nearly human soul (and an obsession with opposable thumbs), he has educated himself by watching television extensively, and by listening very closely to the words of his master, Denny Swift, an up-and-coming race car driver.

Through Denny, Enzo has gained tremendous insight into the human condition, and he sees that life, like racing, isn't simply about going fast. On the eve of his death, Enzo takes stock of his life, recalling all that he and his family have been through.

A heart-wrenching but deeply funny and ultimately uplifting story of family, love, loyalty, and hope, The Art of Racing in the Rain is a beautifully crafted and captivating look at the wonders and absurdities of human life…as only a dog could tell it.
What can I say about this wonderful book that hasn't already been said?
This is the story of Enzo, a dog who wants to be human, and the family who owns him.
I originally read this book as part of my Book Club and recently re-read it because it's just that good.  It's one of those rare books that just stick with you.  I think what I loved most about this book is that Enzo's point of view is so simplified.  You realize he is extremely smart, but at the same time he doesn't grasp certain human actions.  His take on these are at times amusing, heart wrenching, and original.  I found that through Enzo's views on life, love, and happiness that we, as human beings, often take for granted those very things.  We over complicate our lives, losing sight of the important things.  This book was almost a wake-up call for that.
You couldn't help but feel for every character in the book.  Denny, Enzo's owner, and his family start feeling like your own.  You laugh with them, cry with them, and want them to succeed.  Through all their struggles and accomplishments Enzo was there offering encouragement and support, just like a dog would.
This is a must-read for anybody who has ever owned a dog or really any pet.  Having owned one myself, I can honestly say they become part of the family and know just what to do when you're feeling happy, sad, scared, excited, or just need a snuggle.
Enzo gives you a bit of an insight into possibly how they know.