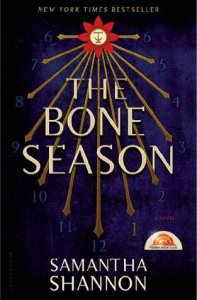 Title: The Bone Season (The Bone Season #1)
Author: Samantha Shannon
Genre: Fantasy, Dystopian, New Adult, Paranormal
Publisher: Bloomsbury USA
Publication Date: August 20, 2013
Pages: 452
Buy: Amazon

It is the year 2059. Several major world cities are under the control of a security force called Scion. Paige Mahoney works in the criminal underworld of Scion London, part of a secret cell known as the Seven Seals. The work she does is unusual: scouting for information by breaking into others' minds. Paige is a dreamwalker, a rare kind of clairvoyant, and in this world, the voyants commit treason simply by breathing.

But when Paige is captured and arrested, she encounters a power more sinister even than Scion. The voyant prison is a separate city—Oxford, erased from the map two centuries ago and now controlled by a powerful, otherworldly race. These creatures, the Rephaim, value the voyants highly—as soldiers in their army.

Paige is assigned to a Rephaite keeper, Warden, who will be in charge of her care and training. He is her master. Her natural enemy. But if she wants to regain her freedom, Paige will have to learn something of his mind and his own mysterious motives.
Ok I have to be honest, this has been on my TBR pile for quite a while.  I thought it seemed like a really interesting concept! Definitely original.  Also, it has been optioned by Andy Serkis' production company, Imaginarium for a film series so I wanted to see what the hype was about.
Paige Mahony is a dreamwalker–a very rare clairvoyant who works for her mime-lord, Jaxon.  She's captured and forced into slavery by the Rephaim, a race that has come to control the humans, particularly the clairvoyants.  She's assigned to Warden, her keeper, who isn't all he seems to be.
This book was "eh" for me.  It took me a little while to get into because I was extremely confused by the first few chapters.  The different types of clairvoyants and the whole Scion government system wasn't established very well.  The world building wasn't so much world building as it was textbook definitions which added to the confusion and made it a bit boring. It gets a little better later on into the story, but the whole beginning I was like: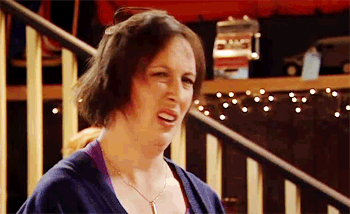 Once Paige gets captured by the Rephaim, everything becomes a little clearer and we start to get invested in these characters.  Paige is a bit of a fireball, which is great.  A very strong heroine (which you know I love!).  The Warden is such a tortured soul that from the beginning you just want to know more about him and his past.  The secondary characters in Liss, Julian, Nick, Micahel, David, stood out for me.  They were very well developed and you could really see their wants and desires.  Nashira made a very satisfying, sadistic villain.
This was definitely a "first book in a series" novel.  I'm hoping a little more gets hashed out in the following books (there are supposed to be seven in total).  There were a few blaring issues I had with this book, such as the lack of well developed world building and the romance seemed a bit trite and forced, but I do admire Ms. Shannon's dive into a new world of clairvoyance which I haven't seen much of in dystopian/paranormal books–at least not at the forefront of the plot.
I'll probably read the second book, The Mime Order, which comes out this January, but if it's at the same level as the first, I probably won't pick up the rest.  It's a book that's gotten big over hype, but I don't see what all the hype was about.