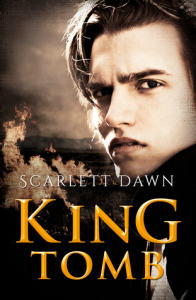 Title: King Tomb (Forever Evermore #3)
Author: Scarlett Dawn
Genre: New Adult, Fantasy, Paranormal
Publisher: Escape Publishing
Publication Date: October 8, 2014
Pages: 209
Buy:Amazon

Queen Shifter, Lily Ruckler, has found solace in brutal warfare. Her bloodied fists and bared fangs fill the holes left in her memory, the blank spaces that leave her soul aching and empty. Her only pleasure is in blood; her only salvation is the relationship she has with her infant child, the baby of unknown origins who brings her solace and stability.

When Elder Harcourt summons Lily and her protector Antonio back to the United States, Lily thinks nothing unusual about the change of location. But a standard reconnaissance mission leaves her trapped inside King Zeller's private quarters, and at his mercy. Surprise attraction rapidly turns to a battle of wills and an intense power struggle that leaves no clear victor but plenty of resentment.

They are not allowed to nurse their wounds. In order to win the war against the Commoners, the King Vampire and Queen Shifter must work together. It should be easy. The war is turning, the battle is deadly, and both Lily and Ezra love the cold cleanliness of combat.

But their chance meeting has led to more than an unlikely alliance. Secrets have a way of surfacing, especially on a torn-up battlefield, and Lily and Ezra are about to re-learn all they cannot remember. If they can't control their emotions and responses, it will be to their own ruin and the destruction of everything around them.
I was so psyched for this book! It's the final book in the Forever Evermore trilogy and the last one left you on the biggest "omg!" moment ever.  We're talking: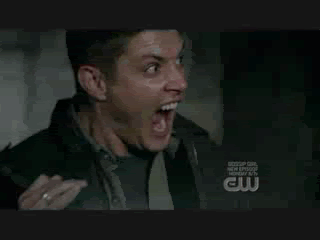 Yea.
So you can imagine my excitement when King Tomb finally came out!
Lily had her memory taken away from her, but she doesn't know why.  Her closest friends and family know the reason, but are unable to tell her.  She's forced to take care of her child while dealing with the war against coms, when she finally finds out who the father is.  A discovery that could change everything.
I have to say I did enjoy this book, but it was a bit of a let down after the first two.  So much happens in King Hall and King Cave that the final installment felt a bit rushed, especially the end.  It was too much of a "tied in a bow" ending.  That's how the war was won? Really? I would have loved to have seen much more of a confrontation.  Ms. Dawn does leave us with some questions which will make readers pick up the next trilogy, but I would have liked to have seen a bit more of a developed plot. I also wish I could have seen more of Pearl and Jack.  We only see them for about the last 2 pages–if that.  They were such an integral part of the story beforehand that it's a bit of a shame to not introduce them earlier.
Lily and Ezra are biting as always (no pun intended ;-)) which made you want to see where their relationship goes, especially after having their daughter Isa.  There are some steamy scenes in there, whew! ::fanning herself:: However, I think my favorite character in this whole series is Antonio.  I feel that he really needs a book of his own! We learn a lot more about his past and I can't wait to see how that impacts the future.
Overall, not my favorite in the series, but I have to recommend this book because the first two were so fantastic.  I have a feeling this was a bit more of a transitional book for the next trilogy which I will definitely be picking up and you should too!