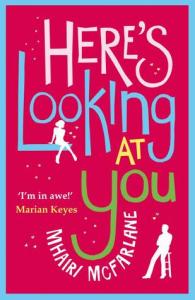 Title: Here's Looking at You
Author: Mhairi McFarlane
Genre: Chick Lit, British Chick Lit
Publisher: HarperCollins Publishers Ltd.
Publication Date: December 5, 2013
Pages: 432
Buy:Amazon

The new novel from the bestselling author of You Had Me At Hello. What if the last person you wanted to see was the person you needed? After the runaway success of You Had Me At Hello, Mhairi McFarlane is back with a new cast of characters in her second book, Here's Looking At You. In essence it's an ugly duckling tale. Our heroine Aureliana returns to school after fifteen years for a reunion. School doesn't hold happy memories for her, as being a roly poly Italian (known as the Italian Galleon), and always armed with a Tupperware full of pungent Mediterranean food, she was bullied incessantly throughout her years there. Now in her 30s, Aureliana wants to put the past behind her once and for all and face up to the bullies who made her life hell. But she is much-changed from the girl she once was – all curves and because I'm worth it hair – and no one recognises her when she arrives. Losing her bottle, she backs out on her plan for revenge and slinks off, hoping never to be reminded of her years at school again. But fate gets in the way, and after the reunion her path keeps crossing with James – major hunk and Aureliana's major crush back at school. But alas, as a cronie to the bullies, Aureliana to this day believes that his beautiful exterior hides an ugly interior. As they continue to cross paths a love/hate relationship ensues until eventually something shifts, and they both start to discover what the person underneath is really like…Full of Mhairi's trademark laugh out loud humour, Here's Looking At You is a novel about facing your demons and being happy with who you really are.
If you haven't noticed already, I love British Chick Lit.  Maybe it's because I lived there for a year? I dunno.  In fact, I remember Skyping with my Dad when I was there telling him about this book I was reading and how they had mentioned something about a grocery store chain (Sainsbury's to be exact) and I completely got the reference.  I was extremely proud of the fact.  To which my dad replied:
"I'm so happy I'm spending all this money on tuition so you can get a reference in a chick lit book."
Me too, Dad. Me too.
Therefore, the second I saw this book, I knew I had to pick it up.  Besides the British references, I could totally relate to Anna's storyline.
Aureliana or Anna as she goes by now, was overweight and horribly bullied in high school.  Her last year in school she was victim to a terrible prank led by her crush, James.  She graduates, determined to put the past behind her.  She loses the weight and lands her dream job.  When she receives an invitation to her 10 year high school reunion, she decides to go.  While at the reunion, she encounters James who no longer recognizes her.  Brushing him aside, Anna leaves without a second thought, but keeps running into him, causing her to question her feelings about everything that happened so many years ago.
Let me start off by saying, that while I was overweight in HS, I was never bullied, and certainly not to the extent that Anna was.  Unfortunately, I do know many who were and this book brings up many issues about that and the ramifications it has even years later.  Even though it deals with some heavy issues, especially toward the end of the novel, it is still chick lit with funny moments and witty dialogue.
Anna is a fantastic character and a great example of someone who takes charge of their life after a terrible experience.  Someone who is determined not to let that experience define her.  As much as I loved Anna, I loved James more.  In this day and age of "internet life" vs. "real life," James is the perfect example of how not everything is the way it seems.  Somebody who supposedly had everything, but really was miserable and not so lucky after all.  I felt that he seemed even more of a complex character than Anna.  The choices he made seemed realistic and far from cliché.  I loved that the story was in both points of view–Anna's and James'.  It really allowed you to get in their heads and connect with each of them.
The supporting characters were great.  Anna's sister and friends were supportive and complex.  James' "friend" Lawerence was a bit cliché, but it worked for the character and story arc.  I enjoyed the plot and thought it was just an entertaining read overall.  It's an ugly duckling story, with some funny moments and heartfelt realism.  Pick it up if you feel like having that "good feeling" after putting down a book.  This one will leave you with a smile.