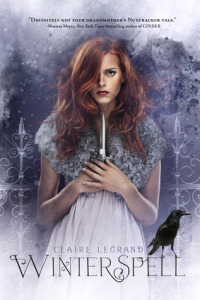 Title: Winterspell
Author: Claire Legrand
Genre: YA, Fantasy
Publisher: Simon and Schuster Books for Young Readers
Publication Date: September 30, 2014
Pages: 464
Buy:Amazon

The clock chimes midnight, a curse breaks, and a girl meets a prince . . . but what follows is not all sweetness and sugarplums.

New York City, 1899. Clara Stole, the mayor's ever-proper daughter, leads a double life. Since her mother's murder, she has secretly trained in self-defense with the mysterious Drosselmeyer.

Then, on Christmas Eve, disaster strikes.

Her home is destroyed, her father abducted–by beings distinctly not human. To find him, Clara journeys to the war-ravaged land of Cane. Her only companion is the dethroned prince Nicholas, bound by a wicked curse. If they're to survive, Clara has no choice but to trust him, but his haunted eyes burn with secrets–and a need she can't define. With the dangerous, seductive faery queen Anise hunting them, Clara soon realizes she won't leave Cane unscathed–if she leaves at all.
Feeling in the holiday mood, I decided to pick up Winterspell since it is loosely based on the story of The Nutcracker–I'm so glad I did!
The story starts off in an alternate version of turn-of-the-century NYC.  Clara Stole is the mayor's daughter, struggling with a depressed and drunken father who has never been the same after her mother's murder.  She wants to fight against the corruption in the city, secretly leading a double life as the mayor's dutiful daughter while training with her Godfather in self-defense.  When her home is attacked on Christmas Eve by creatures she never knew existed and her father abducted, Clara ventures into a whole new world to save him.  Her only help comes from a cursed prince whose motives aren't always clear.  Clara is faced with truths about herself, her mother's true past, and those closest to her.  She must learn to find the courage in herself to be who she was meant to be or all of Cane will be lost.
I loved this!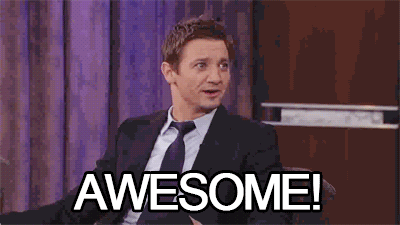 You will never look at The Nutcracker in the same away again.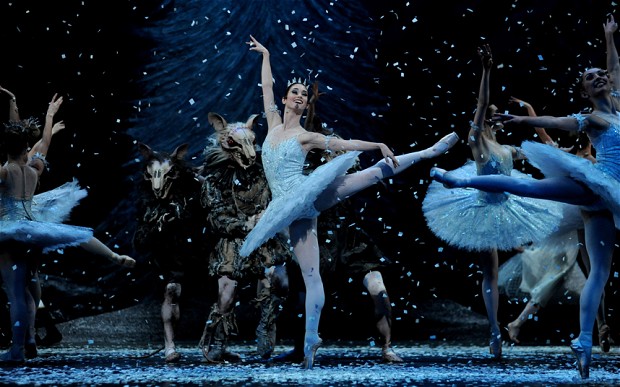 I think the best thing about this book was the characters.  They were very complex and not so cut and dry.  Clara struggles with decisions and choices that everybody goes through.  It is a true coming of age story for her, but not so trite as most are.  The good are not so good and the bad are not so bad in this book–which I loved because isn't that more like real life?  People are different shades of good and evil.  One of my favorite characters was Anise.  She was clearly insane, but at the same time she cut such a tragic figure that you didn't know whether or not you wanted her to find redemption or damnation by the end.  Very unusual for a villain in a YA novel.  Drosselmeyer was the perfect example of how parents and parental figures don't always make the right decisions, but do the best they can at that moment–they're only human.    Nicholas was a boy who was thrust into this impossible position and forced to grow up.  He makes rash, immature decisions, as most teenagers do, and realizes he needs decide what he wants if he truly wants to be happy.  I could go on and on with the other characters because they were all interesting.  There wasn't one in this book that was cliché.  Each had their own journey and story arc that made the plot equally engaging.
The world building was very unique.  I would describe it as steam punk meets fairy magic.  Usually, I'm not so gung-ho about steam punk, but this didn't bother me.  It just fit with the narrative and the world.  The story is dark at times and deals with some disturbing images, but nothing I couldn't handle (and I am the BIGGEST wimp when it comes to that–the Maze Runner freaked me out more).  It is a harsh world though, so everything included was appropriate to the narrative and storyline.
If you're looking for a twist on a holiday classic, this is the book to pick up.
It's a nut-cracking good read! 😉