So Audition Season has arrived. In full force.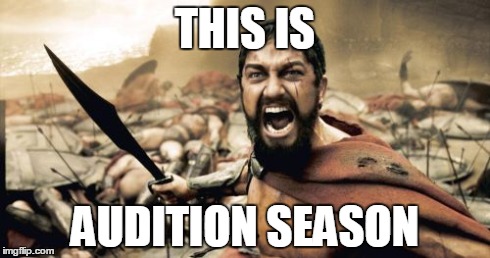 For those of you unaware what Audition Season is (and there is a season), it's when the majority of regional theatres across the country hold auditions for their seasons/summer stock.  This mainly happens from January to March sometimes going into April.  You will have scores of actors descend upon New York in the hope of booking work.  There's nothing to really describe it unless you've gone through it.  And if you want to be an actor, you will go through it.
In case you didn't know, I also teach in multiple school districts and direct the shows at my old HS.  I get a lot of students/parents asking me (especially around college application time) tons of questions about theatre, auditions, what this life is like because their son/daughter wants to major in musical theatre/acting.  Among the responses I give (and I feel like I should do a post about this at some point), I always offer to have them come with me for a day in February during audition season/their winter break to see what it's really like–you know, all the stuff they don't tell you/teach you in school.
I thought about this recently and thought, why don't I do a "day in the life" type post and document what happens during a typical audition season day?  So here you are.
The good.  The bad.  The ugly.  The lines.
First things first.  Alarm goes off and ready to head into the city to line up for auditions.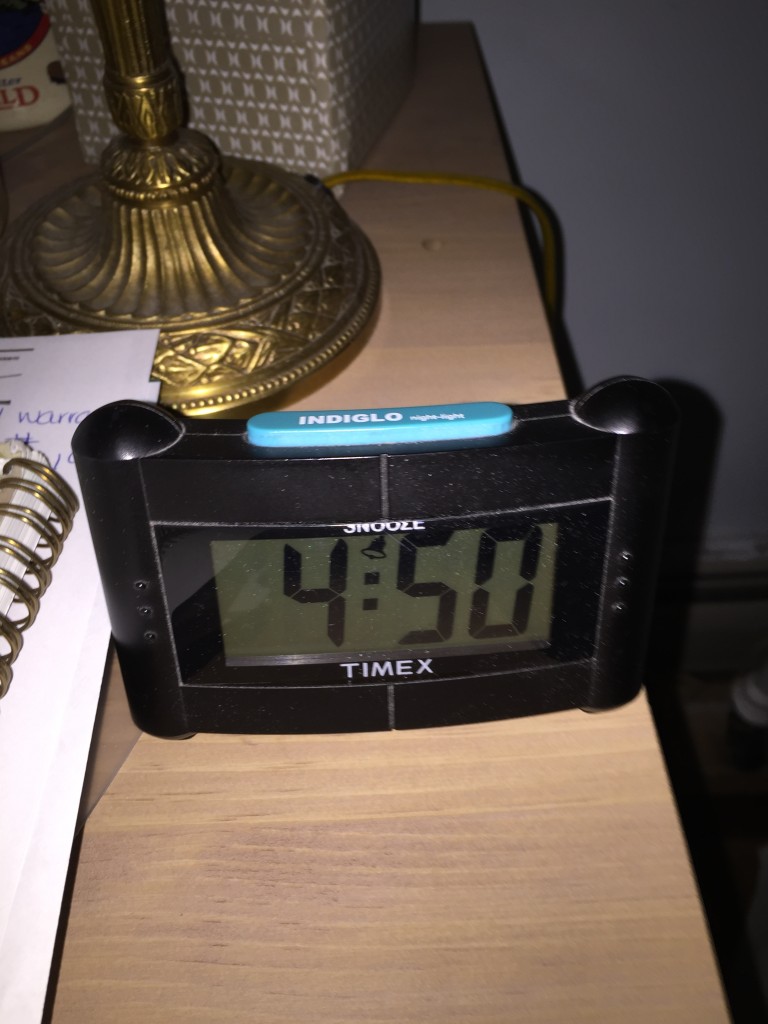 No, you didn't read that wrong.  It's 4:50 AM.  Why so early?  Well I live 20 min. from the GW Bridge and I need to beat as much of rush hour traffic as possible, so the bro and I usually leave the house around 6/6:30 at the latest.  Granted, this is late for some–people line up as early as 5:30/6 for some auditions.
First audition of the day.  We get up to the 16th floor where they're holding auditions and the studio isn't open yet.  We get onto the line which snakes all through the waiting area, through the stairwells and down to the 4th floor where we end up.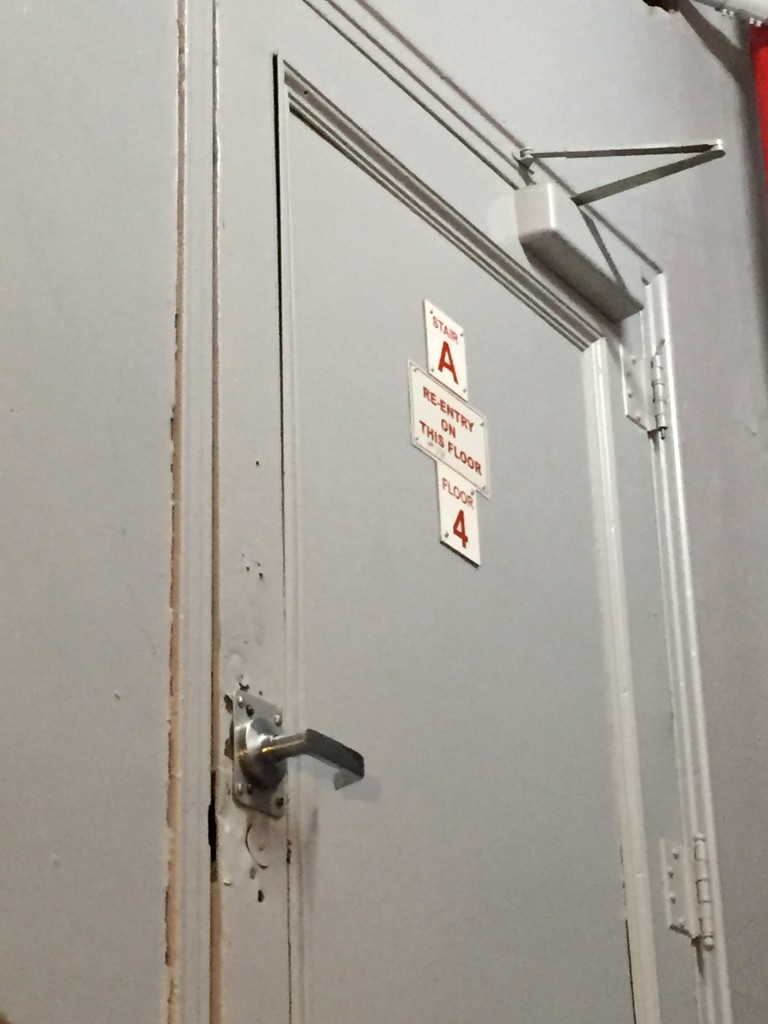 It's only about 7:45am at this point.  The audition doesn't start until 10am with sign-ups starting at 9.  We had friends come after us and end up on the 2nd floor.  I didn't ask if it continued after that.
Memorable Quote #1:
"I feel like we're on the Titanic" – the bro
Of course, once the studio opened, we had to climb up those 12 flights of stairs with audition backpack in tow (which is filled with audition outfits, shoes to said outfits, 2 thick audition books, makeup, water bottles, snacks for the day, bag of cough drops, hair supplies).  They couldn't fit everybody in the holding room so the line snaked through the hallways.  This is me after the climb in the hallway–a sweaty mess.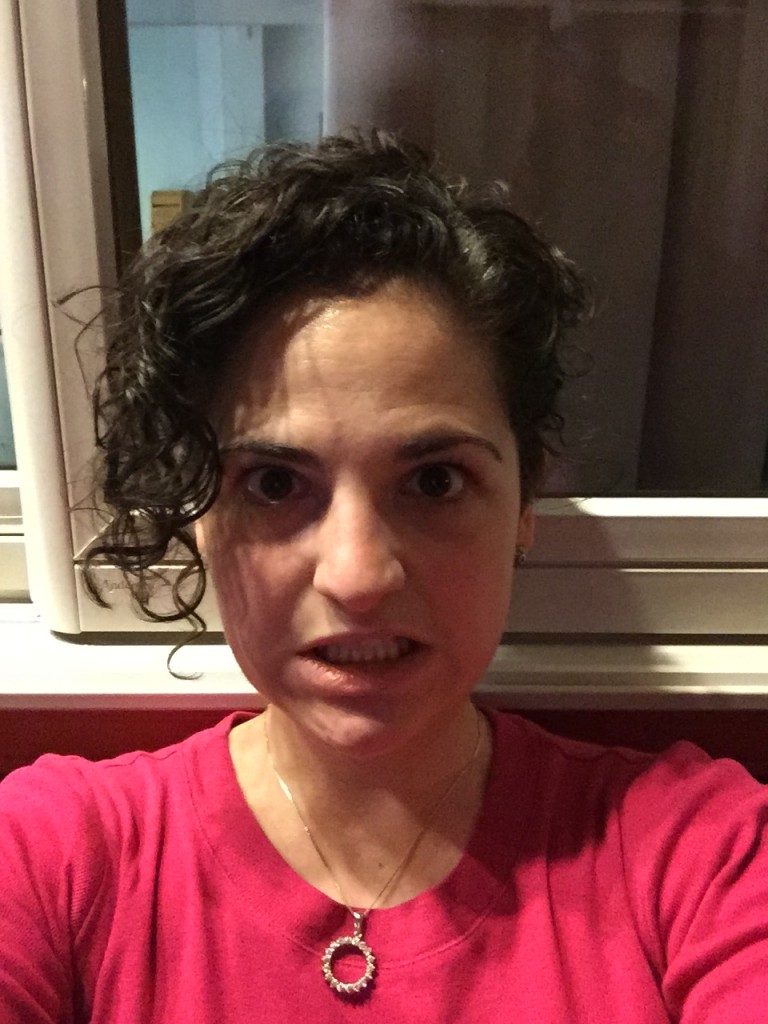 Finally, it's 9am and the line starts moving since sign-ups have begun.  I finally get to the room (the same room we did the On the Air reading in, ironically) and this is the glimpse of the line wrapping throughout the room.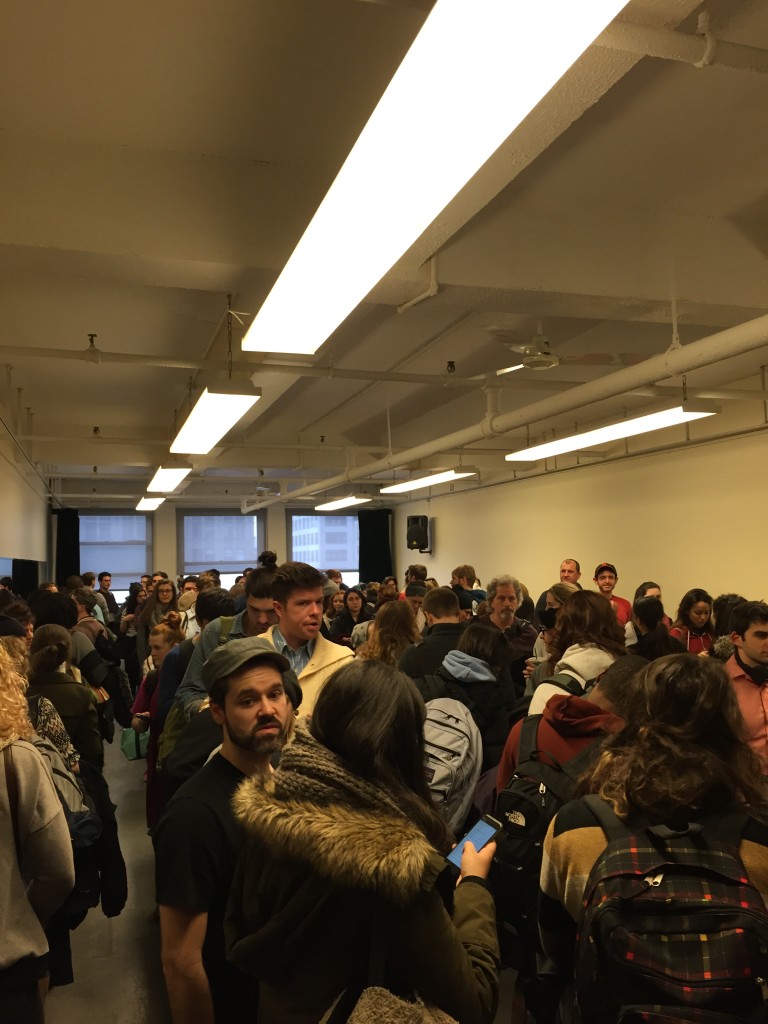 The bro and I sign up as alternates (#14 and 15) since all the appointment slots were full.  What are alternates you ask?  Equity actors have the option to sign up on an alternate list.  If the time slots are all full or you think there is a chance of getting in earlier, you sign up on the alternate list.  If the audition is running along smoothly and there is time, the monitor will fit an alternate in during that specific time slot.  You have to be there when they call your name though and ready to go.  You can be waiting for a half hour or all day to hear your name called depending on the audition.  (Sadly, Robby missed his name for this one by 1 min. since he was in the room auditioning for another show.  We've all been there.)
Once we've signed up for this one, we run to the studio down the block to sign up for another audition.  This was the line for the elevator to get up to the studios.  The elevator people.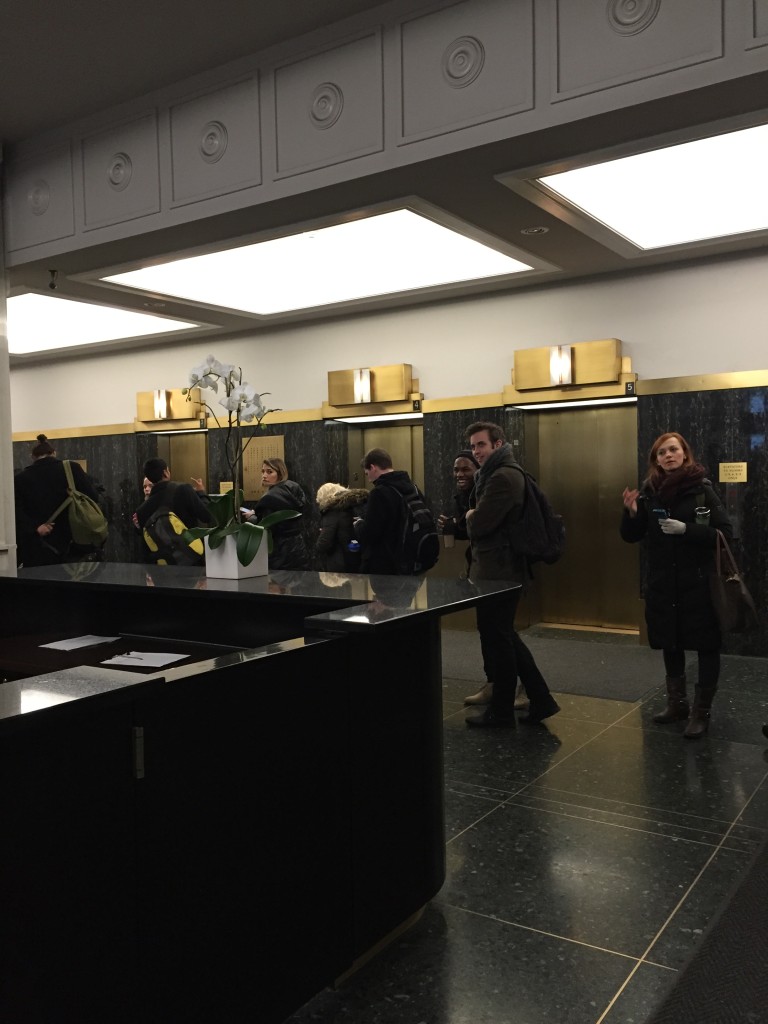 In case you're wondering, there are only two elevators that go up to the 12th floor that are around the corner of those three useless elevators that are staring you in the face.  Each elevator is packed–like getting to know you intimately packed.
Memorable Quote #2:
"Can you imagine being on the 4th floor trying to get on this elevator?  The doors are gonna open and ain't nobody gettin' on this thing" – random audition guy in elevator
Once we get up to the 12th floor we get into the second holding room (lots of people again) and wait to sign up.  We run into friends along the way.  Nicole is not happy with the craziness of the day's auditions.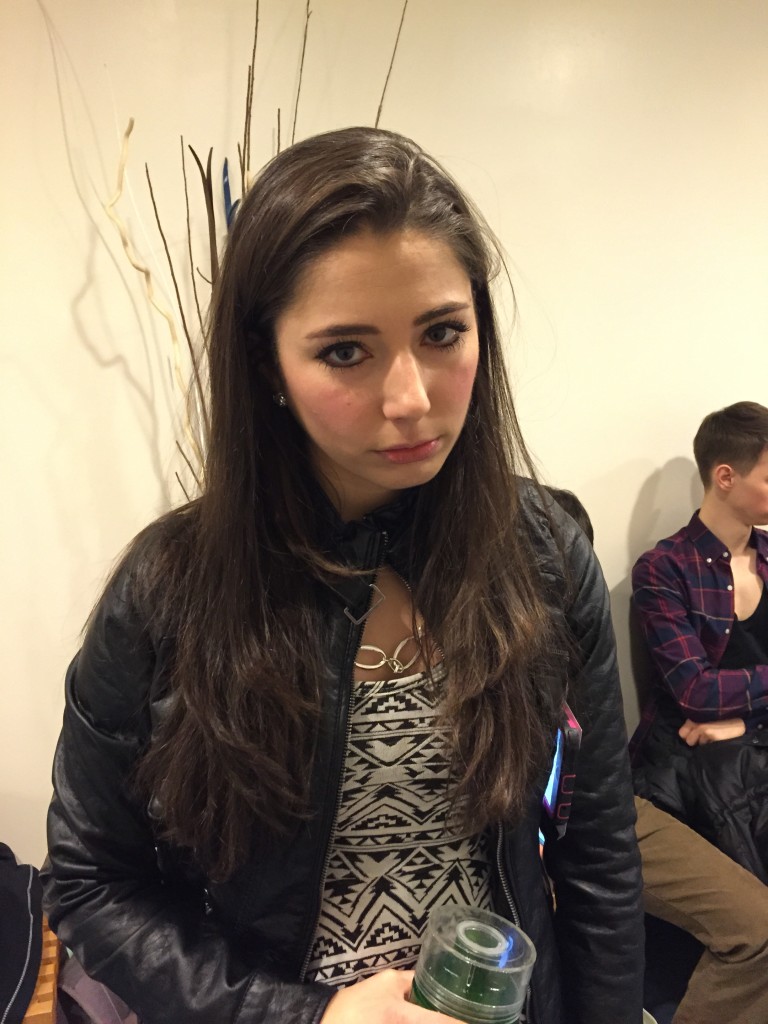 Here is the holding room for the second audition.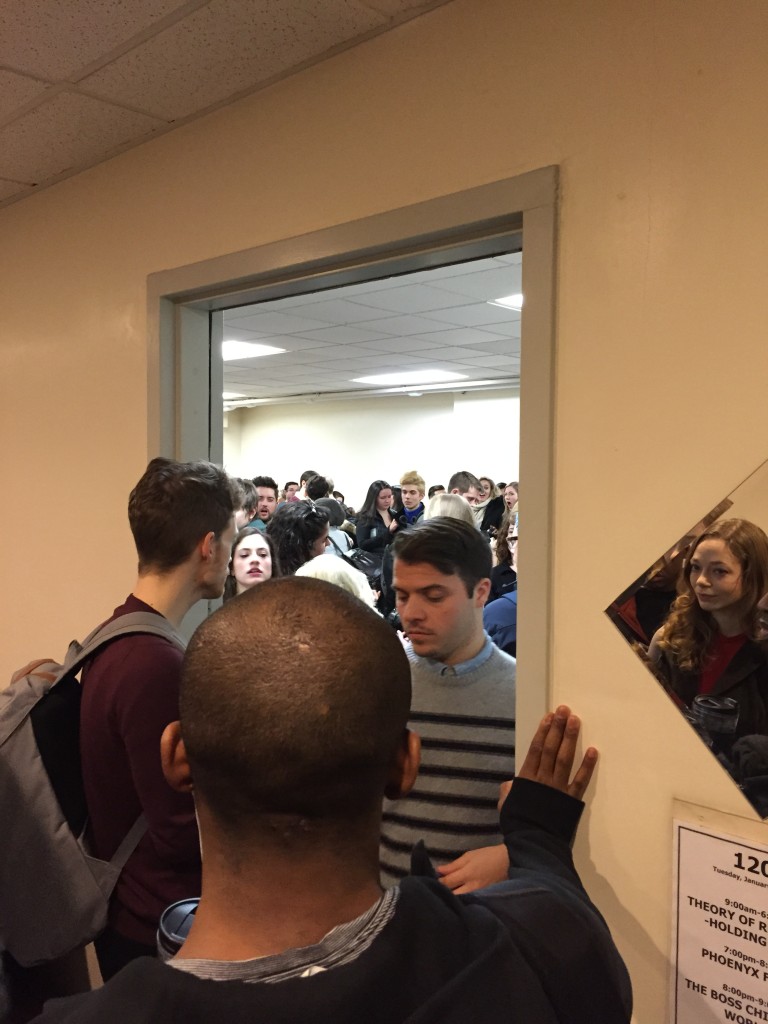 The bro and I are panicking because at this point it's 9:45 and we don't know if we're going to sign up in time before the previous audition starts.  We need to be back in the room by 10 in case they start calling alternates.  This is what makes every actor nuts during the season.  It's all a time game.  You try to see what you can get to and squeeze in in a certain time frame which is near impossible at times. "Luckily" we get signed up in time (#99 and 100 on the alternate list!) and run back over to the other studio.
Memorable Quote #2:
"Where are all these people COMING from?!" – random audition girl in elevator
This is normally what it looks like.  All the girls putting on makeup, doing their hair, changing into different audition outfits.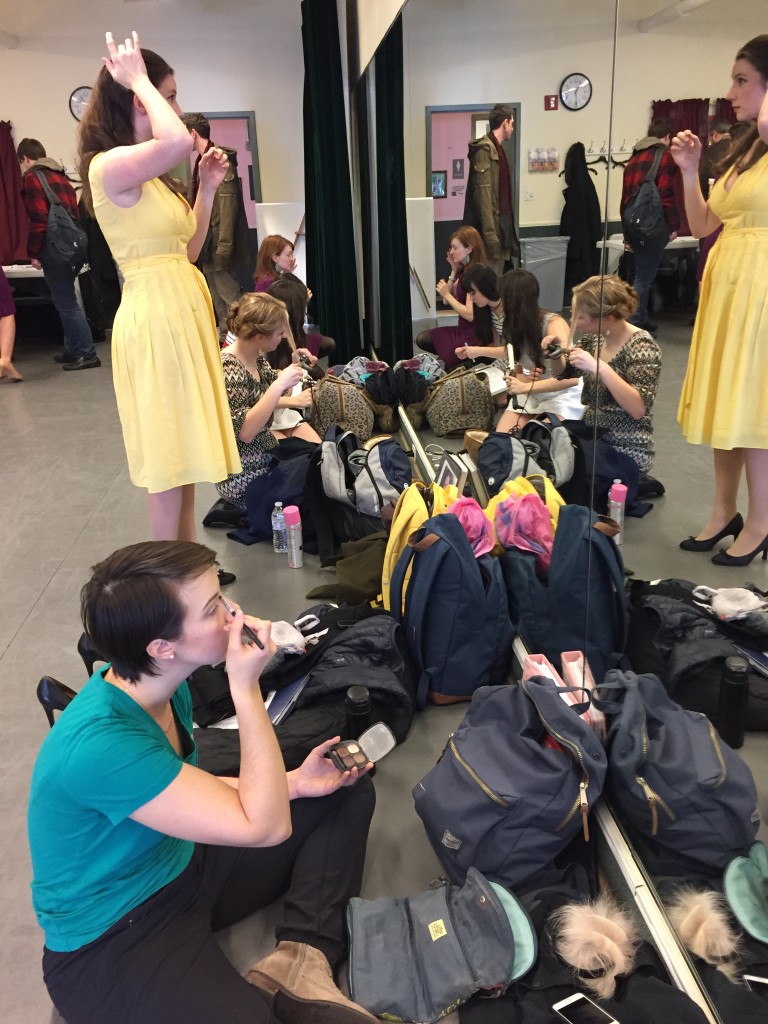 Like I said, Robby had missed his chance since he got seen for a chorus call for a Broadway show, but I was able to get in.  After our first auditions, Robby and I run into our friend Tori.  We were all on the alternate list for the second audition of the day and we debated whether or not it was worth heading back over to wait it out.  We check auditionupdate.com to see if anybody had posted about how fast they were moving through alternates.  We decide to wait it out and head over. It's about 12:30 at this point.
The waiting room was pretty full and all the seats were taken up so here we are on the floor waiting it out.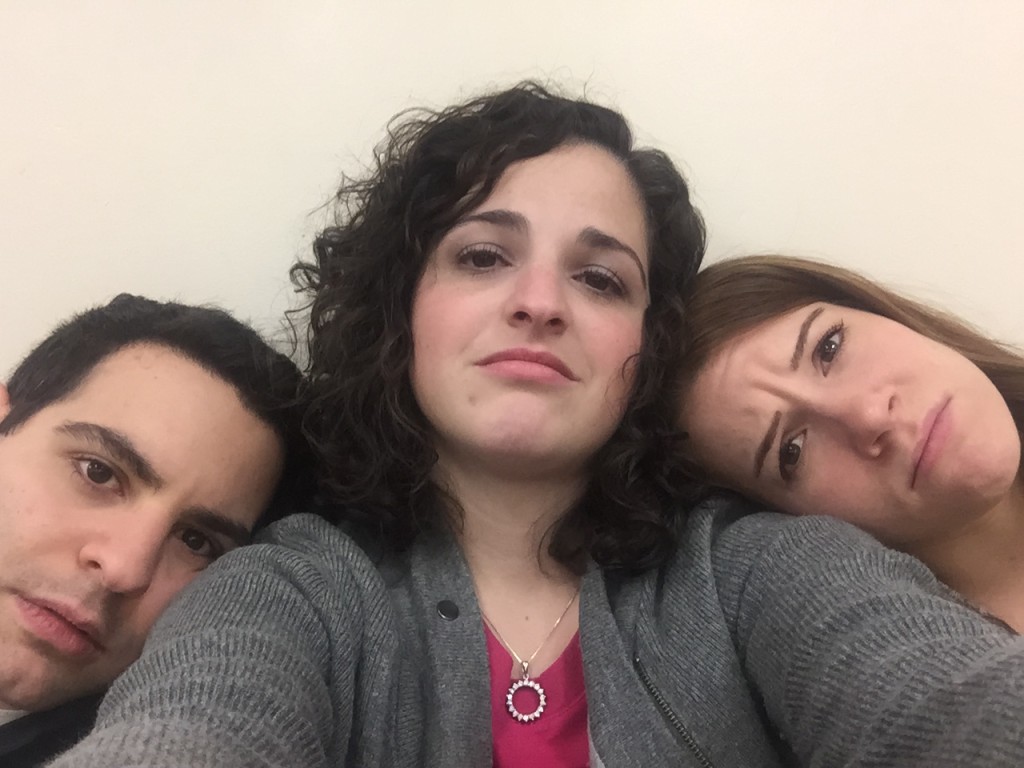 We weren't able to get seen before the lunch break so we decide take a 20 min. nap…on the floor.  Do not doubt that it was glorious.  Lunch ends around 2:30 and we continue to wait, meeting with friends who enter the holding room, eating some snacks, and charging our phones.  Tori gets seen around 4ish, but she was in the 60's on the alternate list.  Once again, the bro and I debate waiting it out or not.  The call ends at 6pm and we still have around 40 alternates to get through.  We decide to wait it out and hope that some of those alternates decide not to show up (which often happens).  At 5:35 our names are called as the last two alternates of the day in the last time slot.  Hallelujah!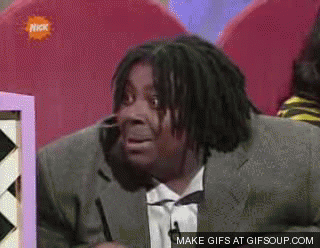 While waiting online to go into the room we ran into Hunter, Greg, and McBee from the On the Air reading who were rehearsing for National Pastime in the room next door (go see it at Bucks this spring!).  It was great to catch up!  Once we leave the studio it's about 6:30pm and we head home.
Greg actually asked us who was driving home and I was like, "Oh Robby.  I already told him like an hour ago because if I drove, I'd fall asleep."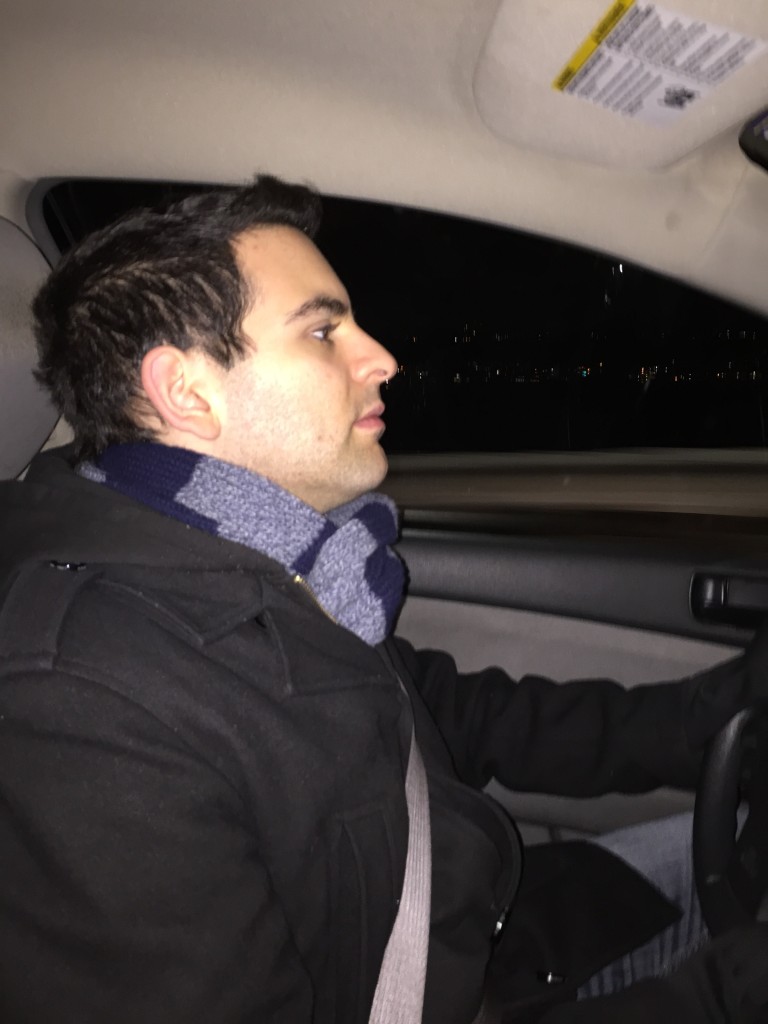 On the way home however, we were starving so we decide to stop and grab some sushi.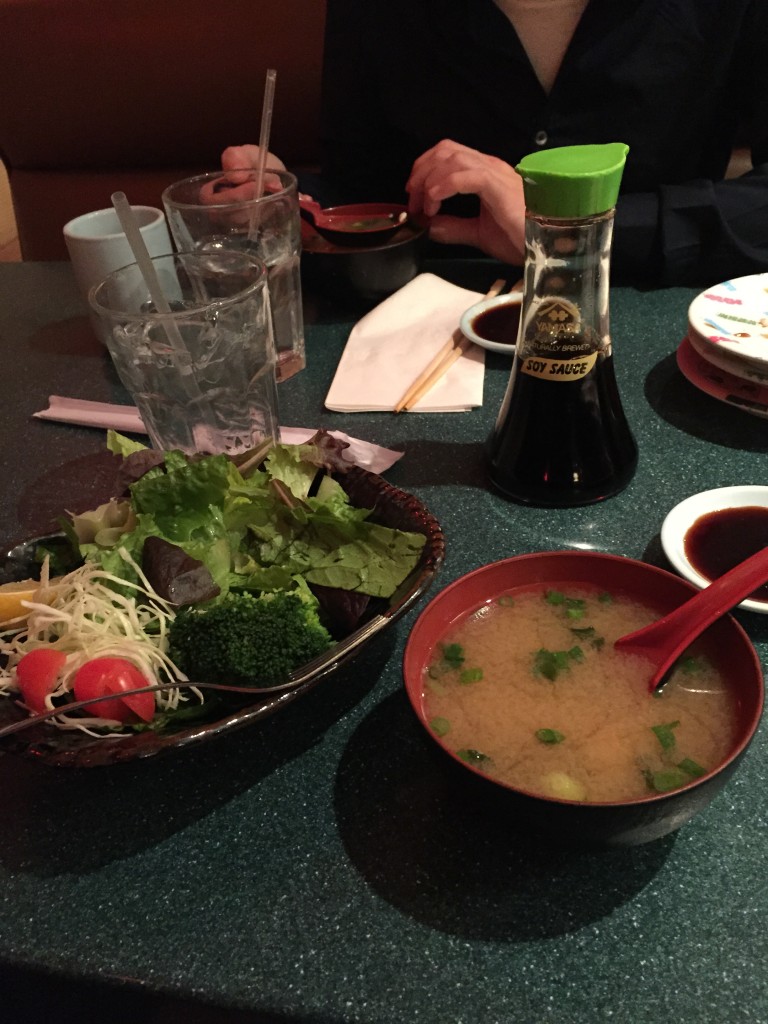 We finally arrive home…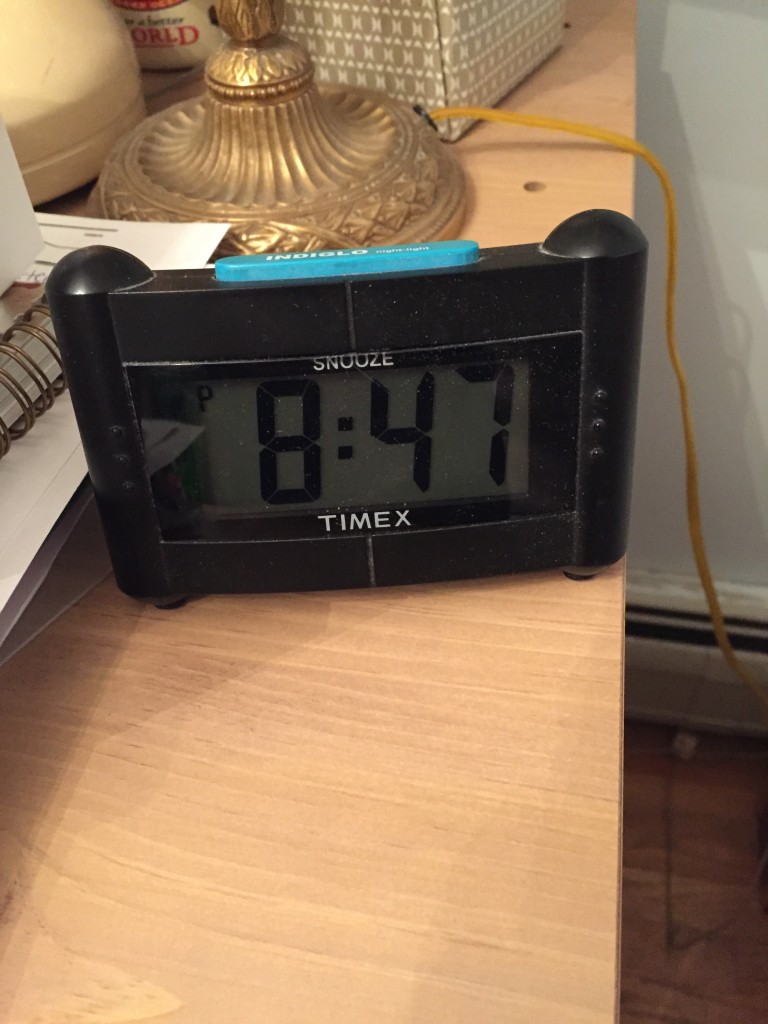 …where I promptly get into my pjs and collapse into bed.
And that is a life in the day of an actor during audition season.