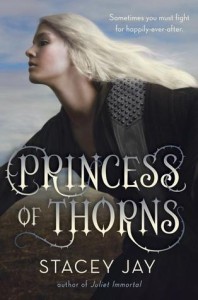 Title: Princess of Thorns
Author: Stacey Jay
Genre: YA, Fantasy, Fairytale Retelling
Publisher: Delacorte Press
Publication Date: December 9, 2014
Pages: 400
Buy:Amazon

Game of Thrones meets the Grimm's fairy tales in this twisted, fast-paced romantic fantasy-adventure about Sleeping Beauty's daughter, a warrior princess who must fight to reclaim her throne.

Though she looks like a mere mortal, Princess Aurora is a fairy blessed with enhanced strength, bravery, and mercy yet cursed to destroy the free will of any male who kisses her. Disguised as a boy, she enlists the help of the handsome but also cursed Prince Niklaas to fight legions of evil and free her brother from the ogre queen who stole Aurora's throne ten years ago.

Will Aurora triumph over evil and reach her brother before it's too late? Can Aurora and Niklaas break the curses that will otherwise forever keep them from finding their one true love?
I love fairytale retellings, especially if they're done well. With the exception of a few characteristic points, I really enjoyed this one!
Princess Aurora is the daughter of Sleeping Beauty who's sacrifice allowed her to be fairy blessed with incredible strength, bravery, and mercy, but also cursed to have any male lose his free will if they kiss her.  She's determined to find an army to battle the ogre queen who stole her kingdom and kidnapped her brother.  Disguised as a boy, she falls into the company of the cursed Prince Niklaas who mistakes her for her brother.  Agreeing to help him marry his "sister", Aurora sets out to help her brother and her kingdom, all before an ancient prophecy comes true.
Overall, I really enjoyed this book.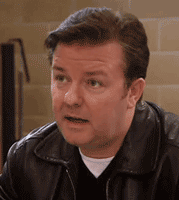 It's told from two points of view–Aurora's and Niklaas'.  I really like Aurora, or "Ror" as a character.  She was extremely loyal and loving to those who are close to her.  She could be stubborn and prideful, which causes her some major conflicts, but at the same time you loved her kick-assness and defense that girls can do just as much as boys (while proving it tenfold).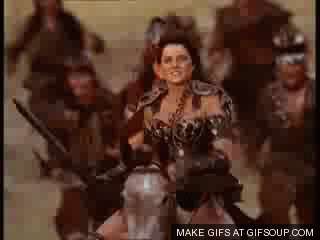 You realize because of her fairy "blessings", Aurora has sacrificed a lot for her country and herself.
Prince Niklaas is also a tortured soul.  His need to cure his curse before his eighteenth birthday causes him to sometimes act irrationally.  I did enjoy seeing the banter between him and "Ror", especially what she puts him through.
There were a few things I had some issues with though.  At first I was a bit confused as to how her brother, Jor, actually got captured by the ogres.  It didn't go into detail about it until much later in the novel and only glances at it at the beginning.  I wish it was elaborated a bit more, even a flashback scene.  Aurora could be a bit annoying at times with her confliction on telling Niklaas the truth or not.  Likewise, Niklaas was a bit much toward the end with some of his decisions–to the point of losing his life.  It made you want to yell and both of them at times.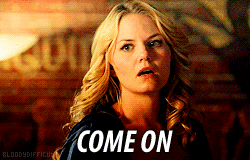 In the end though, I really enjoyed this one.  Plus, it's a standalone!  I know, right?!  I'd love to see more in this world.  Maybe a sequel with Jor or even Thyne (<–that one would be pretty cool!)?  There's a lot left in this world to explore that we only got a taste of in this novel (the Witches, the fairies, the remaining ogres?!).
I'd pick this one up if you're looking for a good fairytale retelling from start to finish.