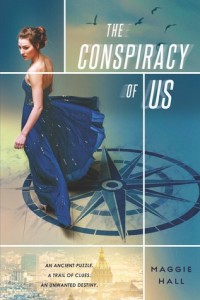 Title: The Conspiracy of Us (Untitled #1)
Author: Maggie Hall
Genre: YA, Contemporary, Mystery, Action
Publisher: Putnam Juvenile
Publication Date: January 13, 2015
Pages: 336
Buy:Amazon

Avery West's newfound family can shut down Prada when they want to shop in peace, and can just as easily order a bombing when they want to start a war. Part of a powerful and dangerous secret society called the Circle, they believe Avery is the key to an ancient prophecy. Some want to use her as a pawn. Some want her dead.

To unravel the mystery putting her life in danger, Avery must follow a trail of clues from the monuments of Paris to the back alleys of Istanbul with two boys who work for the Circle—beautiful, volatile Stellan and mysterious, magnetic Jack. But as the clues expose a stunning conspiracy that might plunge the world into World War 3, she discovers that both boys are hiding secrets of their own. Now she will have to choose not only between freedom and family–but between the boy who might help her save the world, and the one she's falling in love with.
This book is what would happen if Dan Brown wrote something for teens.  It is awesome.
Avery has always yearned for family.  That is, more family than just her mom.  When two mysterious boys arrive who tell her she has family, from her father's side, and that she can possibly meet her father, she travels to Paris to meet them.  Once there, she learns more about her new family and the kind of power they hold over the world.  Avery discovers that she is destined to change the Circle and find a long lost treasure, but people are out to not only use her for their own ends, but see her dead.  She must decipher a set of clues in order to find out what her true destiny is, all without getting herself killed in the process.
I was a bit hesitant about this book at the beginning.  For one, it's a little different from what I normally read, but it seemed intriguing so I gave it a go.  Sometimes, I hit it and sometimes I miss.  This was a bona fide hit.  The beginning seemed a bit melodramatic at first.  The spiriting away to Paris with a complete stranger seemed a bit far-fetched, but you quickly got past that once Avery arrives and things start to happen.  Avery was a great MC!  She was able to adapt to her surroundings (surprisingly well, considering) and is rather observant of everything around her, particularly during the clue hunt.  I loved her and Jack's relationship.  It was very Romeo and Juliet.  Stellan is equally as awesome.  Stellan.  You really never know where his loyalties lie and he keeps you guessing left and right–even at the VERY VERY END!! Love it.
The plot moves very quickly and it's one of those books that you just HAVE to keep reading.  Food? Work? No. I must know what happens next.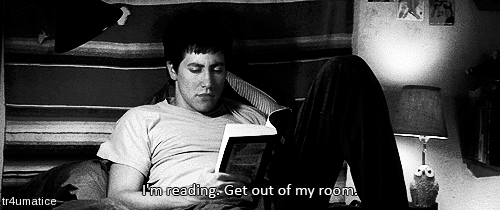 I read this in a day.  Like I said earlier, it's similar to a Dan Brown novel with its conspiracy theories, but also very action-y James Bondish.
It ends on the mother of all cliff-hangers though so you are forewarned.  I NEEDS THE NEXT ONE.