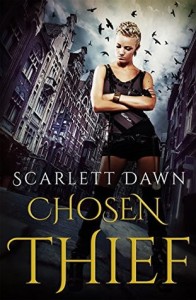 Title: Chosen Thief (Forever Evermore #4)
Author: Scarlett Dawn
Genre: New Adult, Fantasy, Paranormal, Urban Fantasy
Publisher: Escape Publishing – Harlequinn Enterprises
Publication Date: March 8, 2015
Pages: 197
Buy:Amazon

The second saga in the bestselling, groundbreaking Forever Evermore series begins with Chosen Thief, where the life of a skilled lawbreaker becomes much more than she ever wanted…

Caroline Jules knows death is imminent. She's only 22, but as an inmate of Death Row in the most secure Mystical jail, what else could her future hold?

Caro has no idea. Her solitary, transient life is about to get flipped on its head when it is revealed that she is the new Prodigy Elemental, and she has responsibilities and ties that she can't ever escape. Caro is attempting to run from a brutal past, but the Rulers have other plans for this thief's future.

But the transition from a self-contained existence to life with the other Prodigies, the Kings and Queens, and even the Elders was never going to be easy, and Caro has secrets she's loath to share. Suddenly she has friends, mentors, lovers, and they all want to know more about her than she is willing to reveal.

Will Caro ever escape the darkness of all she is, or will she fall deeper into the life that has been chosen for her?
You all know how I feel about this series and how I was a bit disappointed in the ending of the last one, but this one totally makes up for it!

Caro has been sentenced to death and is waiting in a Mystical jail till that day.  However, fate had a different plan when she learns she's to be the new Elemental Prodigy and eventual Ruler.  Caro's transition from street rat to future Queen is not the easiest.  She's faced with elements of her past, including an ex lover or two, along with her own powers and what they're capable of.
This story is the perfect example of why I fell in love with this series.  It's snarky, sexy, funny, mysterious, engaging, heartbreaking, and kick-ass.
Caro definitely falls into the vain as one of Ms. Dawn's stronger MC's.  She reminds me a lot of Lily from the previous trilogy, but she has more of a compassionate side–well as much as any prodigy can afford.  Her relationship with Sin was great and I loved how everybody tried to figure out what it was to no avail.  In fact, I don't know if the reader is left understanding what they are by the end of the book.  Maybe by the end of this trilogy we might have a semblance of what they are.  Regardless, it was great to see them interact with one another and the other prodigies.
The other prodigies were very different from Ezra, Lilly, Jack and Pearl.  Brann reminded me a lot of Ezra, but even cockier (if that's possible).  He definitely had a softer side to him though.  I loved Aria and London because they were really vulnerable in contrast to what you would expect from a future ruler.  However, I  have a feeling they're going to surprise us at some point with some grand act of bravery or cunning.
Leric.  Oh man.  Probably one of the most mysterious and dangerous characters we've met in the series.  Second only to Anotonio (and that's saying something).  I'm interested to see how he plays into the future plot.
The plot itself starts off about 20 years after the events of King Tomb with the former rulers firmly established.  It's great to see them again and see where they ended up.  Much of the plot is focused on Caro's mysterious background/heritage, which I'm sure will play a huge part in the story to come.  The whole book was definitely a set-up with not too much political drive as in the previous books.  Although we do know something is coming.
This book reminded me a lot of King Hall, the first book in the saga, which is still one of my favorites.  It had all the humor and mystery with Caro's heritage, like Lily's, with foreshadowing of the trouble yet to come.  I have a feeling this trilogy is going to surprise us in ways the first one never did–I'm looking forward to it!