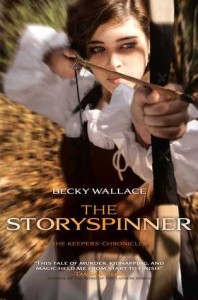 Title: The Storyspinner
Author: Becky Wallace
Genre: YA, Fantasy
Publisher:Margaret K. McElderry Books
Publication Date: March 3, 2015
Pages: 432
Buy:Amazon

Drama and danger abound in this fantasy realm where dukes play a game for the throne, magical warriors race to find the missing heir, and romance blossoms where it is least expected.

In a world where dukes plot their way to the throne, a Performer's life can get tricky. And in Johanna Von Arlo's case, it can be fatal. Expelled from her troupe after her father's death, Johanna is forced to work for the handsome Lord Rafael DeSilva. Too bad they don't get along. But while Johanna's father's death was deemed an accident, the Keepers aren't so sure.

The Keepers, a race of people with magical abilities, are on a quest to find the princess—the same princess who is supposed to be dead and whose throne the dukes are fighting over. But they aren't the only ones looking for her. And in the wake of their search, murdered girls keep turning up—girls who look exactly like the princess, and exactly like Johanna.

With dukes, Keepers, and a killer all after the princess, Johanna finds herself caught up in political machinations for the throne, threats on her life, and an unexpected romance that could change everything.
I've had this book on my TBR pile for a while now.  In fact, when I first came across it, I tried buying it right away and couldn't understand why I couldn't get it anywhere–then I saw the release date–oops!
Johanna is a performer who, after he father's death, is shunned from the performer's camp along with her family and falls into the employ of the young Lord Rafi.  With a steady income she can finally help provide for her family.  However, everything isn't as well as it seems.  There are a series of murders happening that are targeting young girls that match Johanna's description and a major discovery sheds light on Johanna's true identity.
This was a great story.  The characters were intriguing–and they have to be because there are a LOT of them!  I didn't realize going into this that the story was told from multiple POV's so it threw me for a loop at first.  I'm not a huge fan of changing POV's because I always feel that you're playing "catch up" with a character plot-wise.  There was a bit of that at times which I wasn't too keen on, but the plot kept it moving.  There were two storylines happening with multiple characters narrating.  You had the Keepers–Jacaré, Laeo, Pira, and Tex–and then what was happening with Johanna and Rafi.  The POV's change very quickly, but it tends to lend itself to the fast-paced plot.
The characters are great–my favorite being Johanna, Pira and Rafi.  I loved Johanna as a MC and she really holds her own against Rafi's egotism–I loved it!  Pira can be a bit stubborn, but you realize how dedicated she is to her mission and how much she cares for her brother Jacre.
The romances were only really beginning in this installment.  I feel like we were left just as they were starting to blossom.  And the end! You're seriously gonna leave it there?! Le sigh.  Fine.
Pick this one up if you want some fast-paced fantasty with great characters.