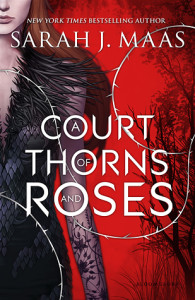 Title: A Court of Thorns and Roses (A Court of Thorns and Roses #1)
Author: Sarah J. Maas
Genre: Fantasy, YA, New Adult
Publisher: Bloomsbury
Publication Date: May 5, 2015
Pages: 416
Buy:Amazon

A thrilling, seductive new series from New York Times bestselling author Sarah J. Maas, blending Beauty and the Beast with faerie lore.

When nineteen-year-old huntress Feyre kills a wolf in the woods, a beast-like creature arrives to demand retribution for it. Dragged to a treacherous magical land she only knows about from legends, Feyre discovers that her captor is not an animal, but Tamlin—one of the lethal, immortal faeries who once ruled their world.

As she dwells on his estate, her feelings for Tamlin transform from icy hostility into a fiery passion that burns through every lie and warning she's been told about the beautiful, dangerous world of the Fae. But an ancient, wicked shadow grows over the faerie lands, and Feyre must find a way to stop it . . . or doom Tamlin—and his world—forever.
I can't even describe my feelings for this book.  You might remember this was on my Can't Wait Books of 2015 list? And you all know my love for all things Sarah J. Maas.  Well, she's done it again.
Feyre kills a wolf in the woods, not knowing that it was really a Fey and sacrifices her freedom to this beast-like creature that arrives at her door seeking retribution.  She is forced to travel with him over the wall, where humans dare not go, to live with him.  Once she arrives however, she is immersed in a world she never dreamed possible, with its own set of dangers.  As Feyre's time passes at Tamlin's estate, she learns to not only let go of her hate for his kind, but possibly learn to love them–and him.  But as wondrous as this new world is, a "blight" has fallen over the land, cursing all the faeries who dwell in it.  A danger that threatens to cross the wall and destroy the human world as well.  As Feyre learns more about this evil, she realizes she might be the only one who can save Tamlin and this new world she's come to love.
I feel like this review should be in the form of a text conversation I had with my friend Jenn.  It goes as follows (I apologize for the blurriness of some of the photos. I had to edit them b/c of spoilers):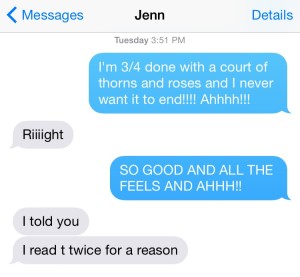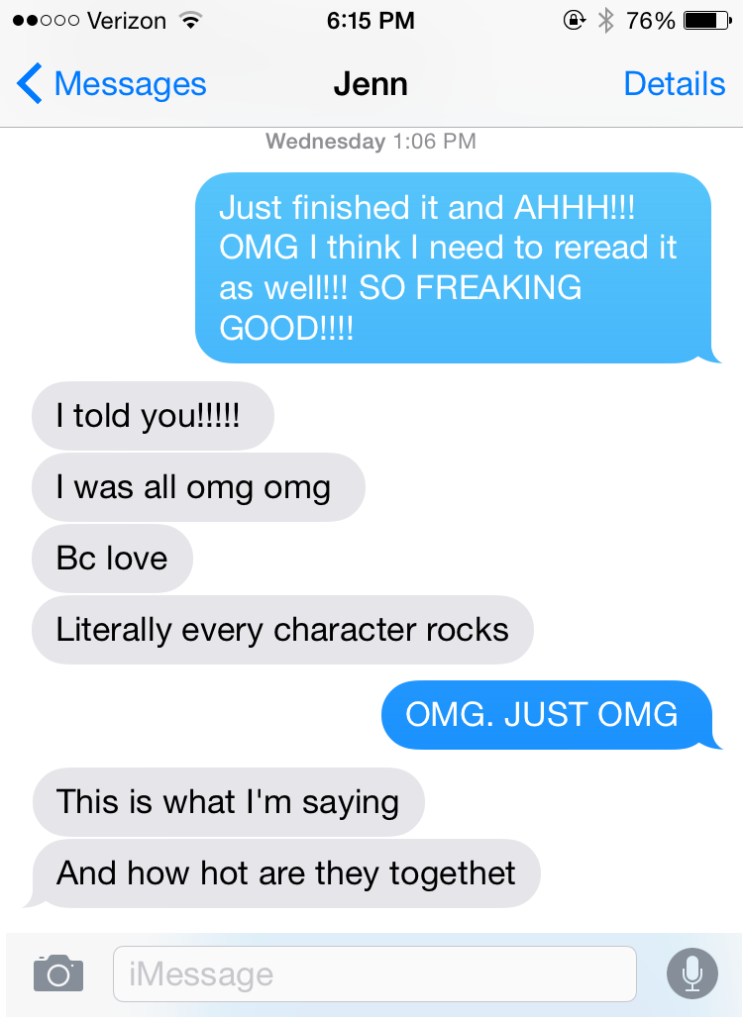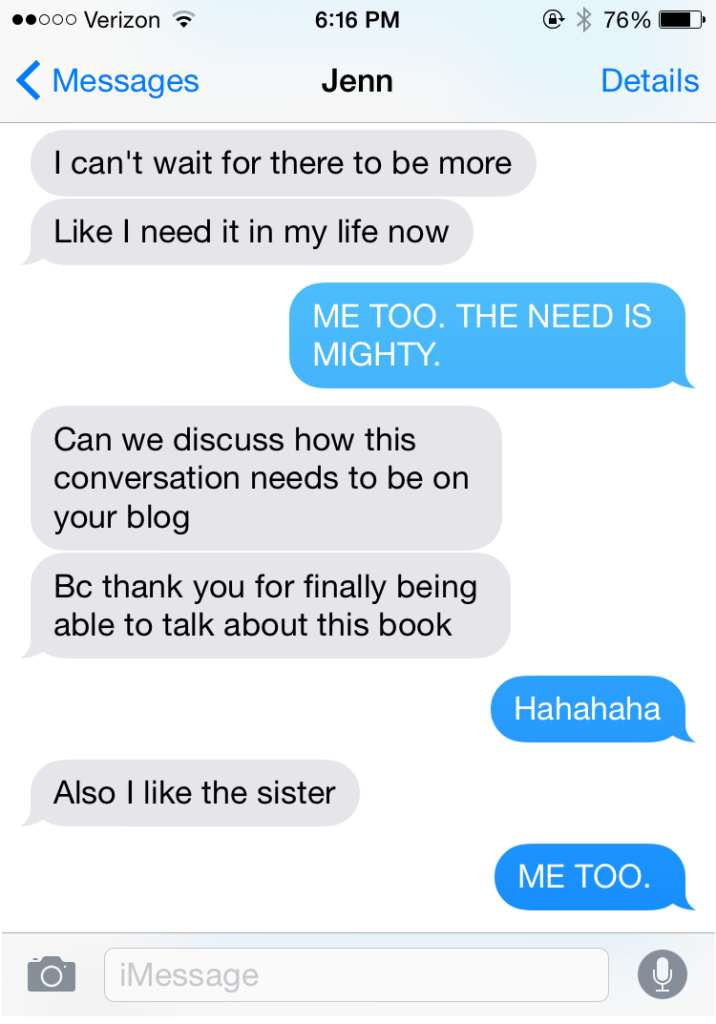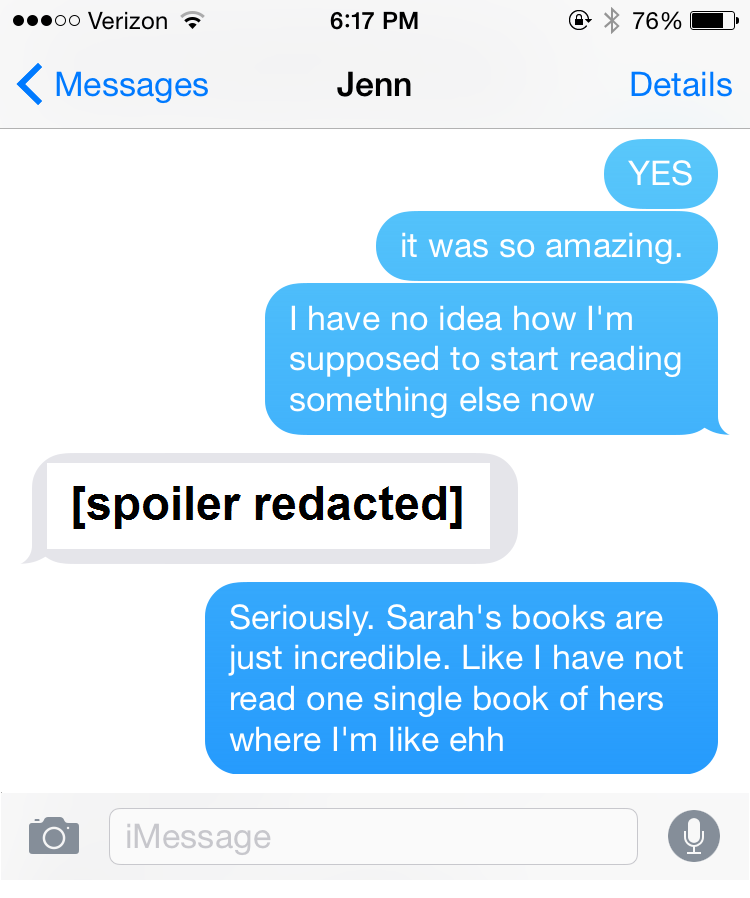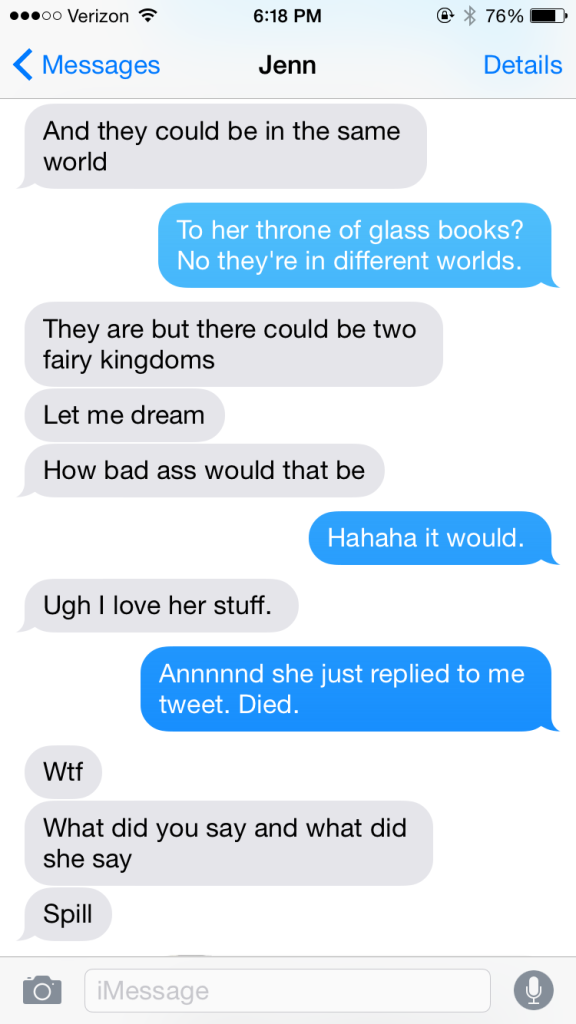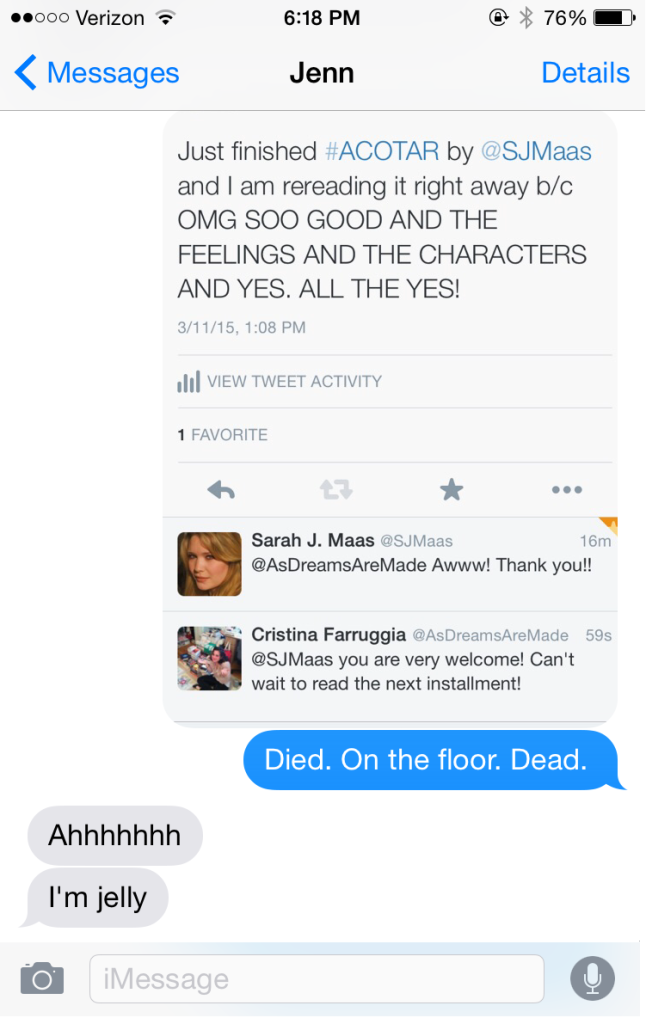 As you can see, my feelings could not be contained.  I proceeded to walk around the house for the rest of the day proclaiming how wonderful this book was and "How can I possibly go on with my life and read something else now?!" while my brother rolled his eyes and my mother tried to console me saying, "Just give it time."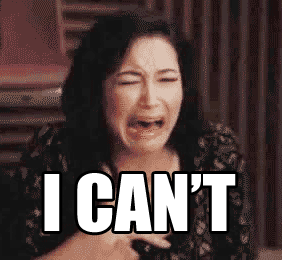 I will now attempt to give an actual review of the book, but I can't promise there won't be anymore flailing.  Just saying.
Feyre is such a wonderful main character and one that I have really enjoyed watching evolve.  The beginning of the book you're not sure if you're going to like her or not because of her actions, but as the story progresses, you really see her rethink her prejudices.  I loved watching that transformation; you were really rooting for her to change her intolerance.  Tamlin was a great love interest for her.  He challenged her thoughts without degrading her for it, but you could see that he struggled with his own sets of beliefs and preconceived notions, which was adorable to watch.  He was definitely "beast-like" at times, which was a great nod back to the original fairytale, but he also had such a tenderness to him that you couldn't help but fall in love with him.  Lucien.  OMG Lucien.  He is up there as one of my favorite, if not THE favorite character in this novel.  He is just so sassy and condescending which was such a great challenge to both Feyre and Tamlin.  You really understand his motives as the story progresses which only makes you love him more.  I can't wait to see how his story develops.  I'm all about him having his own spin-off series.  Just throwing it out there.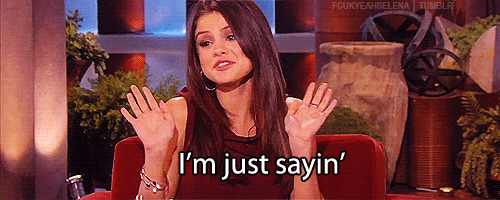 Some of the secondary characters that become more developed as the story progresses, really surprise you.  Two that stand out were her sister, Nesta, and Rhys.  We were quick to judge Nesta because of her actions, but you realize there is much more to her than meets the eye.  I have a feeling she's going to play a larger role in the books yet to come (or at least I hope so, because she is AWESOME).  Rhys.  Rhys is up there with Lucien (a very close second).  Maybe I just love the tragic bad boys?  I dunno, but I am SOOO excited to see how he plays a role in the next book.  His actions in ACOTAR make you want to know everything about him.  There's so much we don't know!
The world building was fantastic.  Sarah is able to create such lush descriptions and imagery that you feel as if the world suddenly leaped up from the page and completely surrounded you.  The plot is beyond engaging and you will want to keep turning the page until its over.
Like, obsessively.
No really.
The end will have you wanting to reread it immediately (like Jenn and myself) because you'll be like "What?! Why didn't I SEE that?!" and you'll have to go back and reread it with a whole new understanding….of everything.  The very very end leaves you with just enough of a teaser to be like "Wait.  What do you mean we have to wait till the next book to find that out?!"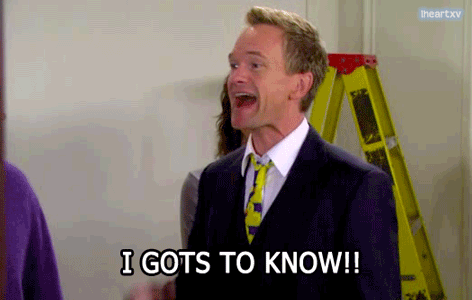 Sarah J. Maas's stories are one of the few I can say that are up there with Tamora Pierce.  Can I be so bold as to say she's this generation's newest version?  I know I'll get flack for saying it, but really.  After you read this one, you'll be reduced to the state that I was after I first read it.  When that happens, just come back here and know that you're not alone.