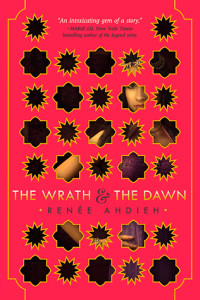 Title: The Wrath and the Dawn (The Wrath and the Dawn #1)
Author: Renée Ahdieh
Genre: YA, Fantasy, Retelling
Publisher: Putnam Juvenile
Publication Date: May 12, 2015
Pages: 388
Buy:Amazon

A sumptuous and epically told love story inspired by A Thousand and One Nights

Every dawn brings horror to a different family in a land ruled by a killer. Khalid, the eighteen-year-old Caliph of Khorasan, takes a new bride each night only to have her executed at sunrise. So it is a suspicious surprise when sixteen-year-old Shahrzad volunteers to marry Khalid. But she does so with a clever plan to stay alive and exact revenge on the Caliph for the murder of her best friend and countless other girls. Shazi's wit and will, indeed, get her through to the dawn that no others have seen, but with a catch . . . she's falling in love with the very boy who killed her dearest friend.

She discovers that the murderous boy-king is not all that he seems and neither are the deaths of so many girls. Shazi is determined to uncover the reason for the murders and to break the cycle once and for all.
You all know by now what my biggest pet peeve is, right?  When characters don't communicate with one another and cause unnecessary drama!  This book was chock-full of it!
Shazi bravely volunteers to wed Khalid, the caliph and ruler of Rey.  Bravely because none of his wives ever survive the dawn after their wedding.  Seeking revenge for the best friend that was taken from her, Shazi decides she will murder this monster king before any other girl can be killed.  Each day that she is not sentenced to death however, she learns that there is more to this so called monster than she originally thought.  Everything he's done has been for a reason; one she is determined to discover no matter the consequence.
Ugh!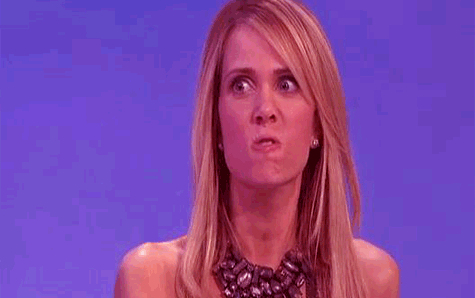 Sorry had to get that out of the way.  Half of the problems in this book would have been solved if people just communicated with each other and stopped acting like immature fools.  That seriously drives me up a wall!
The story is a retelling of "A Thousand and One Nights".  It changes POV's every so often which I feel was part of what didn't work for me.  I was most interested in the Shazi and Khalid's storyline and every time the POV deviated from that, especially to focus on annoying characters, it made me want to stop reading out of frustration.  Shavi was such a great character.  I loved her strength, resourcefulness, and sarcastic-ness that she shows throughout the story.  She's a great match to Khalid's brooding countenance and really lets him step up and realize what it means to be King.  Jalal and Despina were fantastic secondary characters and I can't wait to see how their story develops!
Tariq.  Omg.  He was just annoying!

I think what irritated me the most about him was his immaturity in all things.  Half the time he reminded me of a toddler who had his favorite toy taken away.
I'm torn over this book because I LOVED the story between Khalid and Shazi but the changing POV's and lack of communication just made me want to pull my hair out at times.  The ending was a bit predictable and I'm just not sure I want to read the sequel because I have an inkling of where it's heading and if there are more of the same problems that were in this one, I'm not sure I can get through it.  I might wait and see what some of my fellow bloggers say about it before I decide.  :-/
There were some great moments in the story but unfortunately they were only during the Khalid and Shazi scenes.  If you can get through the other scenes without throwing the book across the room, then go for it because Khalid and Shazi's love story was so great to see evolve!