Soooo for all you non Book fanatics out there, you might not know about this "little" convention called Book Expo America or BEA.  It's a 3 day convention where book professionals, authors, and readers alike meet to discover new titles, trends, and network.  It's AWESOME.  If you follow me on Twitter (which you should ::gives evil glare::), you might notice my main picture is this: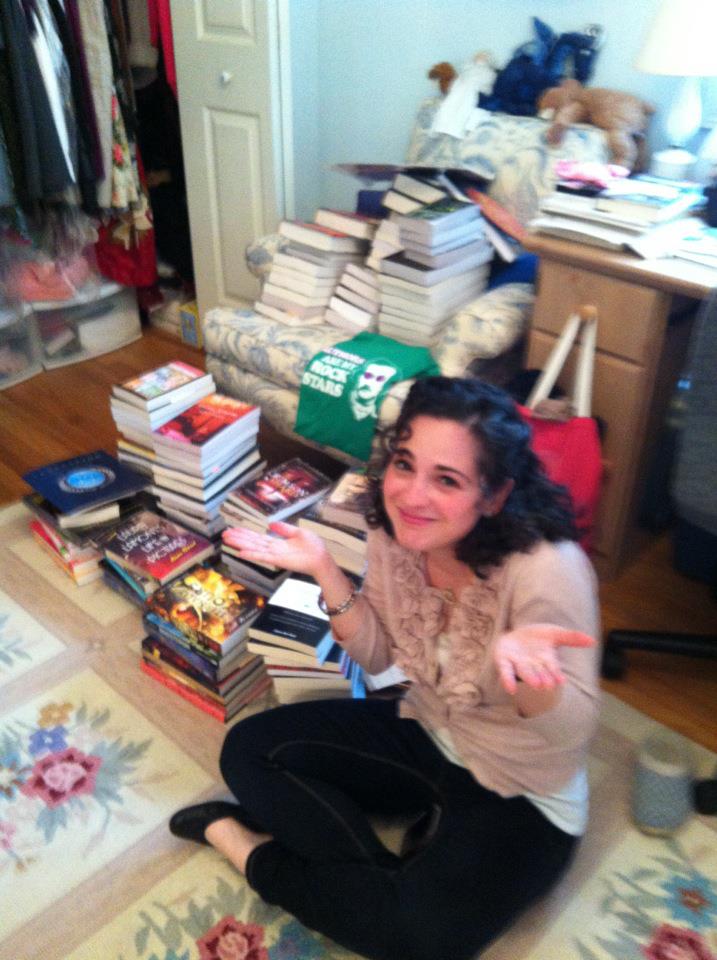 This was me after the first year I went with my book haul.  Three days and over 130 books.  I was in heaven.
Since my first year, I've learned a few tricks of the trade and valuable lessons that I thought I would share with anyone who is planning on going.  Now there are TONS of #BEA2015 prep guides out there that a lot of my book blogger friends have made (Octavia from Read.Sleep.Repeat has an awesome one you can check out here and for my fellow BEA attendees of the past you need to check out Hannah's from The Irish Banana's recap in Gifs here.  Your welcome.)
Since BEA is only 2 WEEKS away I thought I'd give some last minute tips that might help you out!
1. Bring a Suitcase (pref. a rolling one)
The first year I went to BEA I had no idea you were supposed to bring one.  Luckily my friend Jess informed me beforehand.  They have drop off points so you can load up the suitcase throughout the day instead of lugging your books in totes.
2. Be comfortable.
This always happens.  The first day of BEA I try to look really nice and professional, but by the third day of lugging heavy books, running around to catch signings and galley drops I'm like: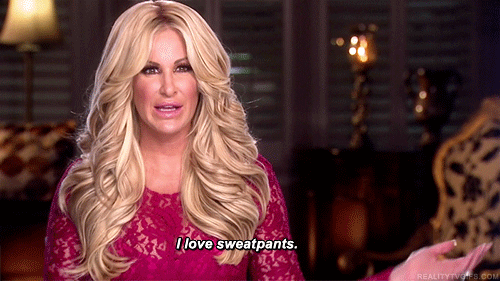 (Hey, they can still be nice sweatpants…)  This goes without saying, but comfy shoes are a MUST.
3. Bring Snacks
Rookie mistake of year one.  "Oh we'll have time to just pick up something in the food court for lunch."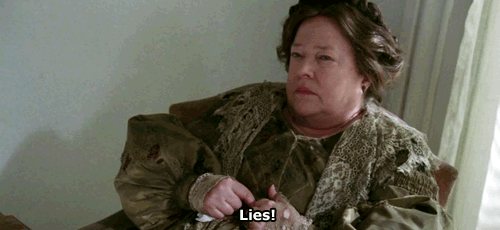 I usually have a substantial breakfast that morning, then bring some snacks (cut up apple, power bar, nuts, water bottle) that I can have to hold me over until dinner.  There are signings/events happening almost every minute of every hour and you'll miss them if you stop to have the overpriced food down in the food court.  This way will save you money as well.
4. Don't rely on your phone
I'm convinced that the second you walk into the Javits Center it starts eating your battery until you have nothing left, even if you never touch your phone.
Bring a charger and use your phone sparingly.  There is "WiFi" at the Javits, but it's so slow it's practically useless.  The most we would use it was if my brother and I were communicating about signings/line-ups/or drop offs and they were fast one word texts like.
"Table 4"
"Here"
"Go to Macmillon"
"I'm dead"
I plan out my schedule weeks in advance and print an excel spreadsheet so I don't have to rely on the BEA app on my phone.  Robby and I have separate copies and we coordinate.
5. Ibuprofen (or pain killer of choice), Band-Aids, Vodka*
Lemme break it down for you.  Three days of lugging around hundreds of books in one-shoulder totes, walking the equivalent of at least 15 miles a day, and then dealing with squeeing teenagers at Book Con.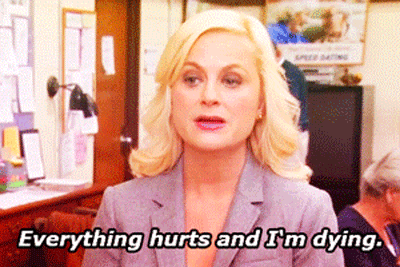 *only if you're over 21.  If not, I suggest a cookie from Schmackary's.  Actually even if you are over 21, have the vodka and the cookie. (Plus it's Broadway Bakes week! Your favorite Broadway stars will be selling you cookies!)
6. Don't be Shy!
Don't be afraid to introduce yourself to people! I've met so many awesome people at BEA over the years–bloggers, teachers, publishers.  Waiting in line for long periods of time allows for some natural bonding! haha!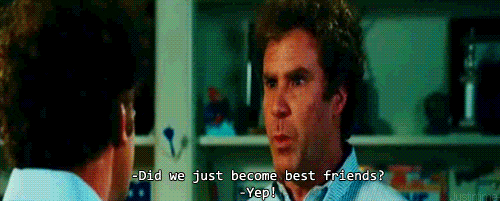 I love meeting new people, so if you see me on the floor/line, please don't be shy and come say hi! (I swear that rhyme was unintentional, but I'm leaving it cause it's awesome).
See you there!!
Please follow and like us: