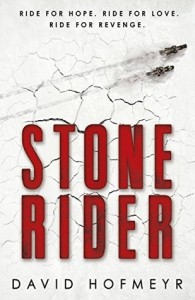 Title: Stone Rider
Author: David Hofmeyr
Genre: YA, Dystopian
Publisher: Delacorte
Publication Date: July 14, 2015
Pages: 336
Buy:Amazon

In the vein of The Outsiders and the early Western novels of Elmore Leonard, this inventive debut novel, a cross between the cult classic Mad Max movie series and Cormac McCarthy's The Road, blends adrenaline-fueled action with an improbable yet tender romance to offer a rich and vivid portrayal of misfits and loners forced together in their struggle for a better life.

Adam Stone wants freedom and peace. He wants a chance to escape Blackwater, the dust-bowl desert town he grew up in. Most of all, he wants the beautiful Sadie Blood. Alongside Sadie and the dangerous outsider Kane, Adam will ride the Blackwater Trail in a brutal race that will test them all, body and soul. Only the strongest will survive.

The prize? A one-way ticket to Sky-Base and unimaginable luxury.

And for a chance at this new life, Adam will risk everything.
I really enjoyed this one and you can too if you enter my giveaway!  The description is pretty accurate in describing it as The Outsiders meets a Westerner meets Mad Max meets The Road.
Adam Stone wants nothing more than to leave Blackwater and join the elite at Sky-Base, where one lives in luxury.  The only way to get there however is to win a ticket on the Blackwater Trail with his byke.  A dangerous ride that almost half of those who compete don't make out alive.  When tragedy strikes, he has nothing left to lose and competes in the race, alongside two other loners–the mysterious Kane and the only girl he loves, Sadie Blood.  Along the ride, they face hardships and tragedies nobody could imagine, but it's all worth it for a chance at a new life, right?
The best way I can describe this book is if a Western movie met a dystopian version of Earth.  I loved the whole premise because it felt really original.  It's definitely not something I've come across lately.  The earth is now toxic, with many not living past their thirties.  The rich elite were able to leave Earth and go to Sky-Base, leaving those who couldn't afford it to the harsh devastated planet with it's sulfuric storms and lack of growth.  They're left to mine the only thing useful to those on Sky-Base–Voddenite.  A mineral used to make protective suits for riders, among other things.
Adam is one of those MC's that becomes a man in this book.  His journey is ripe with suffering, tragedy, but also growth, self-discovery, and love.  His ability to care for others is considered a weakness in the harsh Earth environment, but proves to be his greatest strength in the end.  Sadie seemed the least developed out of the three main characters.  A bit one-dimensional for me and their love story seemed abrupt, but I guess it would have to be in that environment.  We know Adam was in love with her since forever, but her side seemed a bit out of the blue. Kane was one of my favorite characters.  You never know what he's thinking or what he's going to do next.  His unpredictability makes you question if he's good or bad.
The plot moved much in the way of a Western action movie.  It was more of a "boy's" book than anything with the action as it's driving force.  At times it reminded me of The Hunger Games in the way it was a "fight to the death/finish" type of race, along with the drive and complexity of some of the characters.  The twist toward the end of the novel will make you be like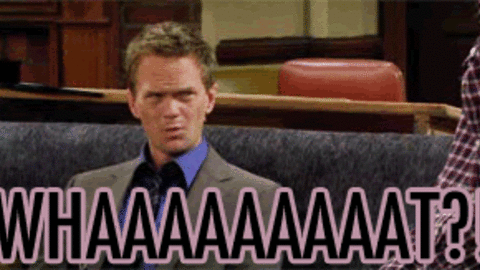 The end will leave you a bit torn as to how you feel.  I'm assuming there will be a sequel since some major questions were left unanswered.  The ending itself was satisfying, if a bit abrupt.  Overall, this was a great, original story.  I just wish some of the characters had a bit more dimension to them, but I think they will be further developed in forthcoming installments.  I'm not a Western kind of gal, but I really enjoyed this one.  If you're into some tire squealing adventure, pick this one up.  Enter the giveaway, to win you're own copy! 🙂