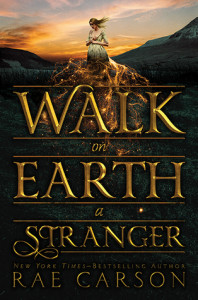 Title: Walk on Earth a Stranger (The Gold Seer Trilogy #1)
Author: Rae Carson
Genre: YA, Fantasy, Historical
Publication Date: September 22, 2015
Publisher: Greenwillow Books
Pages: 432
Buy: Amazon

Lee Westfall has a secret. She can sense the presence of gold in the world around her. Veins deep beneath the earth, pebbles in the river, nuggets dug up from the forest floor. The buzz of gold means warmth and life and home—until everything is ripped away by a man who wants to control her. Left with nothing, Lee disguises herself as a boy and takes to the trail across the country. Gold was discovered in California, and where else could such a magical girl find herself, find safety?