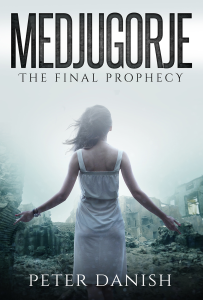 Title: Medjugorje (The Final Prophecy)
Author: Peter Danish
Genre: Contemporary, Historical
Publication Date: October 13, 2015
Publisher: True North Publishing
Pages: 225
Buy:Amazon

On a pilgrimage to a holy shrine, in a war-torn country, five strangers of different faiths and ethnicities are thrown together by fate.  A war and a thousand years of hatred divide them.  But a fortune lies ahead if they can forget the past, put aside their differences and work together for one night.  Jew | Muslim | Catholic | Orthodox | Agnostic – five men, each on a pilgrimage of his own, have one chance to see all of their dreams come true.  A beautiful, mysterious, young girl with a tale of a vision, holds the key to unlocking a miraculous secret.  But only a miracle can keep these blood-enemies from killing each other in the process.