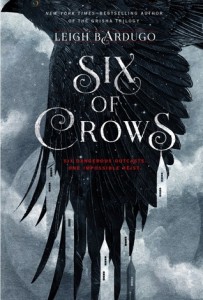 Title: Six of Crows (Six of Crows #1)
Author: Leigh Bardugo
Genre: YA, Fantasy
Publication Date: September 29, 2015
Publisher: Henry Holt and Company
Pages: 480
Buy:Amazon

Ketterdam: a bustling hub of international trade where anything can be had for the right price—and no one knows that better than criminal prodigy Kaz Brekker. Kaz is offered a chance at a deadly heist that could make him rich beyond his wildest dreams. But he can't pull it off alone…

A convict with a thirst for revenge.

A sharpshooter who can't walk away from a wager.

A runaway with a privileged past.

A spy known as the Wraith.

A Heartrender using her magic to survive the slums.

A thief with a gift for unlikely escapes.

Six dangerous outcasts. One impossible heist. Kaz's crew is the only thing that might stand between the world and destruction—if they don't kill each other first.
Everybody knows how much I loved Leigh Bardugo's Grisha series.  The second I finished it I needed more. When I saw her next book was set in the same world, I knew I had to have it.
Six of Crows tells the story of an unlikely group of six misfits and thieves that attempt the biggest heist ever imagined.  They're going to break someone out of the Ice Court, home of the brutal army of drüskelles.  Kaz, their leader, is sure of success, especially with a 30 million kluge reward waiting for them if they succeed.  Treachery, danger, politics, and conspiracies wait around every corner.
I really loved this book.  It takes place in the same world as the Grisha series, but instead of taking place in Ravka, we're introduced to the seedy Barrel of Ketterdame in Kurch, where the Grisha aren't so much as revered, but forced into indentures where they're little more than slaves.  You could read this without reading the Grisha series first, but I wouldn't recommend it.  You might not get some obscure references that aren't that necessary to the plot at the moment, but just enrich your reading experience if you do get them.
The story is told through the perspective of Kaz and his gang–Jesper, who's good with guns; Wylan, a Barrel newbie; Nina, the gorgeous Grisha; Mattias, an exiled drüskelle; Inej aka the wraith and Kaz's most trusted ally.  The characters really made the story and as you learned more about them and their pasts, you realized what made them tick.  Kaz was one of the most crazy, ruthless, conniving, and intelligent characters I've come across.  He doesn't trust anything or anybody.  He is the epitome of bad-assness.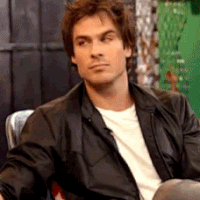 Inej was also a great contrast for him.  She struggles with her feelings for Kaz while trying to figure out her purpose in the world.  I LOVED Nina and Mattias.  Their story line was one of my favorites and after their ending, I can't wait to see how their story develops.  Jesper and Wylan were great as well, entertaining us with side quips and jovial innocence.
The plot is definitely darker than the Grisha series.  It was also a bit slow moving at first.  It took me a little while to get into it because the characters seemed a bit detached.  It's not till later on in the plot that we start to learn more about their histories and what drives them–that's when the interesting stuff happens.  There are plenty of plot twists and surprises through.  Every time you think you know what's going to happen, Bardugo's like nope!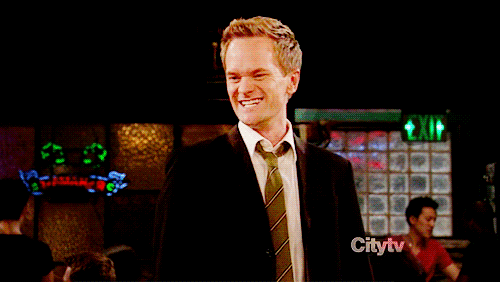 The ending was filled with them.
That ending.  Wow.
The whole second half of this book really made it for me.  I couldn't stop reading it and now I can't wait for the second installment because REASONS.  If you're looking for a book with compelling, complex and interesting characters while building on an already well-developed world, than this is the book for you.