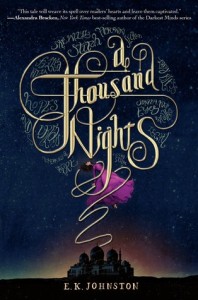 Title: A Thousand Nights
Author: E.K. Johnston
Genre: YA, Fantasy, Fairytale retelling
Publication Date: October 6, 2015
Publisher: Disney Hyperion
Pages: 336
Buy: Amazon

Lo-Melkhiin killed three hundred girls before he came to her village, looking for a wife. When she sees the dust cloud on the horizon, she knows he has arrived. She knows he will want the loveliest girl: her sister. She vows she will not let her be next.

And so she is taken in her sister's place, and she believes death will soon follow. Lo-Melkhiin's court is a dangerous palace filled with pretty things: intricate statues with wretched eyes, exquisite threads to weave the most beautiful garments. She sees everything as if for the last time.But the first sun rises and sets, and she is not dead. Night after night, Lo-Melkhiin comes to her and listens to the stories she tells, and day after day she is awoken by the sunrise. Exploring the palace, she begins to unlock years of fear that have tormented and silenced a kingdom. Lo-Melkhiin was not always a cruel ruler. Something went wrong.

Far away, in their village, her sister is mourning. Through her pain, she calls upon the desert winds, conjuring a subtle unseen magic, and something besides death stirs the air.

Back at the palace, the words she speaks to Lo-Melkhiin every night are given a strange life of their own. Little things, at first: a dress from home, a vision of her sister. With each tale she spins, her power grows. Soon she dreams of bigger, more terrible magic: power enough to save a king, if she can put an end to the rule of a monster.

I hate to say it, but this retelling of the Scheherazade or One Thousand and One Nights just fell short.  I know a lot of people have been comparing it to The Wrath and the Dawn, another retelling of the same legend, but I was "eh" about that one as well.

The king, Lo-Melkhin, takes a new wife from various villages after he murders his current wife.  The MC's beautiful sister is sure to be next in his long list of murders, but she is determined not to let that happen, even if she has to go in her place.

Ok.  Can I just say, what is with the whole no names thing?!

With the exception of a select few, everybody was referred to as their roles i.e. "sister" or Mother of my heart".  I understand that the author was trying to create anonymity (or at least that's what I thought she was doing), but in reality it just made the characters one-dimensional and non-memorable.  The writing, although meant to be beautiful and descriptive just dragged for me since the story seemed detached at times.  Certain aspects of the plot were disjointed and felt that they came out of nowhere especially concerning the magic and some of the world building.  It felt like characters gained powers out of nowhere and they weren't explained very well, leaving you to wonder what was happening half the time.

The romance was implied, but practically non-existent.  It wasn't based in any type of interaction or real affection so it was hard to emotionally invest in it.

I don't know if it's just me, but so far the two retellings I've read of this legend have been less than stellar.  I know I'm probably one of the minority in my opinion of this book, but I can't help it! If I were you, I'd skip this one and look for a story with a little more…well…more.