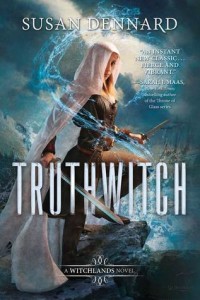 Title: Truthwitch (The Witchlands #1)
Author: Susan Dennard
Genre: YA, Fantasy
Publisher: Tor Teen
Publication Date: January 5, 2015
Pages: 416
Buy:Amazon

On a continent ruled by three empires, some are born with a "witchery", a magical skill that sets them apart from others.

In the Witchlands, there are almost as many types of magic as there are ways to get in trouble—as two desperate young women know all too well.

Safiya is a Truthwitch, able to discern truth from lie. It's a powerful magic that many would kill to have on their side, especially amongst the nobility to which Safi was born. So Safi must keep her gift hidden, lest she be used as a pawn in the struggle between empires.

Iseult, a Threadwitch, can see the invisible ties that bind and entangle the lives around her—but she cannot see the bonds that touch her own heart. Her unlikely friendship with Safi has taken her from life as an outcast into one of reckless adventure, where she is a cool, wary balance to Safi's hotheaded impulsiveness.

Safi and Iseult just want to be free to live their own lives, but war is coming to the Witchlands. With the help of the cunning Prince Merik (a Windwitch and ship's captain) and the hindrance of a Bloodwitch bent on revenge, the friends must fight emperors, princes, and mercenaries alike, who will stop at nothing to get their hands on a Truthwitch.
This book.  Wow.  Let's not forget what I went through to get it, remember?
Safiya and Iseult are Threadsisters; the best of friends.  Each has their own magic.  Iseult is a Threadwitch and can discern he emotions of those around her, but not her own or those of another Threadwitch.  Safi is a Truthwitch; the rarest of powers where she can tell the lies and truths of those around her.  Many people would kill to have her in their control.  A series of events leads Safi and Isuelt on the greatest and most life changing adventure yet.  Along the way, they meet a Bloodwitch who is determined to hunt them down, a prince who is fighting to save his country, and both discover that they might be the key to changing their world and restoring what was thought forever lost.
OMG THIS BOOK.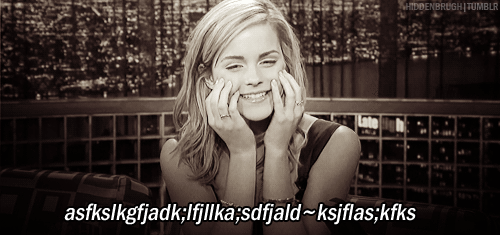 Guys.  Like for real so good.  From the very first page, this book is NON STOP.  At first it was a little difficult for me to get into it because of that (I know, I know; silly of me), but then I couldn't stop reading it.  I HAD TO KNOW WHAT HAPPENS NEXT.  The characters are great.  I loved the dynamic between Safi and Iseult; how they contrast one another, yet completely compliment the other at the same time.  Safi is the hot-headed one, while Iseult is the cool and collected one.  Their relationship was solid.
The story is told through a few different perspectives: Safi, Iseult, Merik, and Aeduan.  Usually, I'm not one for such a variety of POV's in a story, but this completely worked.  I loved the romance between Safi and Merik.  The tension!!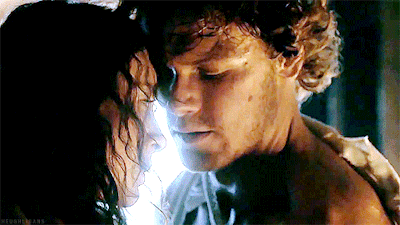 Can I also say how much I loved Aeduan? He's so conflicted and torn and just – I know you'll do the right thing, Aeduon!!  There is so much backstory that Dennard has hinted at with him that I seriously need the second book.  I also loved the relationship the four main characters had with their secondary characters.  I feel there's a lot more to Ryber than meets the eye.  She's going to have some sort of impact on the plot later on.  Evrane is so bad-ass!  I loved her interaction with Merik and the girls.  Such a great character.  Leopold as well.  Don't want to give to much away about him, but he's a surprising character.  I'll leave it at that!
The world building was on point.  We really get into the different nations in this installment and I have a feeling we're going to be seeing a lot more of them in the next one.  Certain aspects of the plot were a bit predictable, but not in a bad way.  We just saw certain things coming, even if we didn't want them to.  The end left you dying to get your hands on the second installment.

What I loved about this book, and Susan also mentions it in her acknowledgements, is it celebrates the relationship between two best friends.  Romantic relationships are important in one's life, yes, but so are the ones of the best friend variety.  Sometimes more so.  That relationship is not often given the spotlight in a YA novel, so kudos to you, Susan, for giving it some much needed stage time.  Go get your hands on this book the second it comes out.  I'll be next to you on line, waiting for the bookstore to open.