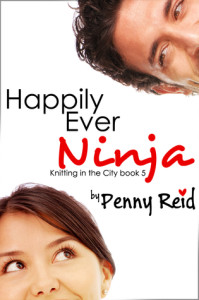 Title: Happily Ever Ninja (Knitting in the City #5)
Author: Penny Reid
Genre: Chick Lit, Contemporary
Publisher: Caped, Smashwords Edition, Cipher-Naught
Publication Date: January 19, 2016
Pages: 308
Buy: Amazon

There are three things you need to know about Fiona Archer… I would tell you what they are, but then I'd have to kill you.

But I can tell you that Fiona's husband—the always irrepressible and often cantankerous Greg Archer—is desperately in love with his wife. He aches for her when they are apart, and is insatiable when they are together. Yet as the years pass, Greg has begun to suspect that Fiona is a ninja. A ninja mom. A ninja wife. A ninja friend. After fourteen years of marriage, Greg is trying not to panic. Because Fiona's talent for blending in is starting to resemble fading away.

However, when unexpected events mean Fiona must take center stage to keep her family safe, her response stuns everyone—Greg most of all. It seems like Greg's wish has come true.

Except… not.

When all is said and done, can Greg handle this new version of his wife? Will his irrepressible cantankerousness push her away? Or can the couple find a way forward without either being forced to step back into the shadows?
I love, love, love this series and Penny Reid hasn't disappointed with its newest installment!
Fiona and Grege have been married for quite a while.  Greg has been away working for most of it while Fiona is stuck at home juggling the kids, the apartment, and the finances.  Can they continue to go on as they have or will something have to change before they lose one another for good?
I loved Fiona and Greg's story.  Ever since reading Ninja at First Sight (their prequel story), I couldn't wait to get my hands on this.  Fiona was such a bad-ass character! I mean we've always known that, but she is in her element in this one.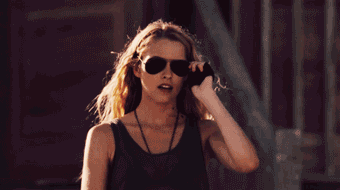 I loved her storyline in this though! Actually, both hers and Greg's.  You really see her struggle through what (at least in my limited knowledge) every mother and wife goes through; same thing with Greg as a husband and father.
Am I making the right choices?
I just need more help!
Why can't they just keep the damn place clean and put their dirty laundry in the hamper instead of leaving it on the floor!
I loved Greg's sense of humor.  It was totally inappropriate, but you couldn't help but laugh.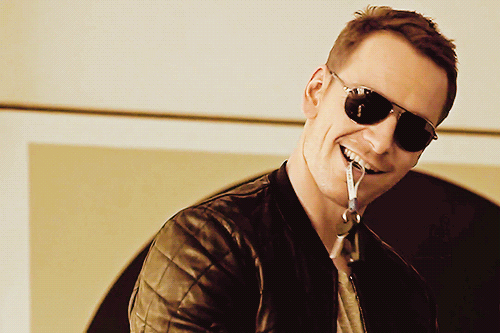 Although you did get annoyed with him every once and a while when he would make executive decisions without discussing them with Fiona.
The plot went in a direction you totally didn't expect it to, but it was a nice surprise.  I won't go into too much detail about it because of spoilers, but it definitely was very high stakes and allowed Fiona and Greg to really sort through some of their isssues because of it.  They couldn't ignore them.
We see all of our old familiar friends from the previous novels and some insights as to what they're up to now.  One of my favorite parts about Happily Ever Ninja is Ms. Reid asked her readers to send in love notes, letters, texts, etc. and included them at the beginning of each chapter.  It was really sweet to read some of them because you know they were real.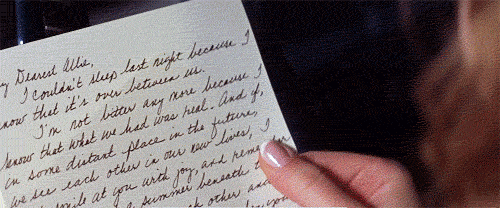 If you want to read a surprisingly action packed, but real-life and romantic story, this is it.  the issues brought up here are some of the most realistic and honest I've come across in any chick lit book I've read in a long time.  Read it if you want some real #relationshipgoals cause Fiona and Greg show you it's OK not to be perfect, but still work at it.