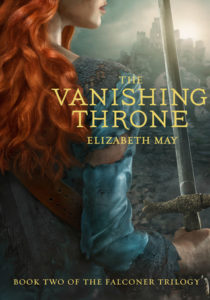 Title: The Vanishing Throne (The Falconer Trilogy #2)
Author: Elizabeth May
Genre: YA, Fantasy, Steampunk
Publisher: Chronicle Books
Publication Date: June 21, 2016
Pages: 384
Buy: Amazon

*****Spoilers for The Falconer in description*****

Aileana Kameron, the Falconer, disappeared through the portal that she was trying to close forever. Now she wakes up in the fae world, trapped and tortured by the evil Lonnrach. With the help of an unexpected ally, Aileana re-enters the human world, only to find everything irrevocably changed. Edinburgh has been destroyed, and the few human survivors are living in an uneasy truce with the fae, while both worlds are in danger of disappearing altogether. Aileana holds the key to saving both worlds, but in order to do so she must awaken her latent Falconer powers. And the price of doing that might be her life.