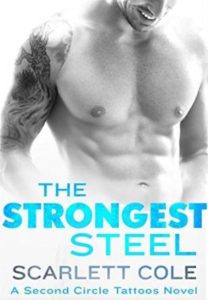 Title: The Strongest Steel (Second Circle Tattoos #1)
Author: Scarlett Cole
Genre: New Adult, Contemporary
Publisher: St. Martin's Press
Publication Date: July 7, 2015
Pages: 297
Buy: Amazon

Harper Connelly never expected to find herself outside of a tattoo parlor at one in the morning, summoning the nerve to take back her past. She's determined to forget her old life and is looking for an artist who can tattoo over the scars on her back.

Trent Andrews, local legend and owner of the Second Circle tattoo studio, has his own reasons for specializing in inking over scars. And in spite of her mysterious past and the difficult road ahead, he quickly realizes that Harper is funny, smart, and–under her ridiculously oversized clothing and SPF 100 sunscreen–totally hot. He's happy to take on the challenge of designing a meaningful and deadly full-back tattoo for her.

But when cryptic messages start appearing on Harper's phone, strange deliveries arrive at her door, and Second Circle is vandalized, Harper is convinced that her ex-boyfriend has tracked her down, and worse, that he knows about Trent. Running was the only thing that saved her last time, but now that she's started to put down roots in Miami, she'll have to decide if she can finally fight back instead.
I've been on a NA kick lately because of Nikki and Sarah! We've all been binging on it and when I saw this one, I knew it was different than any other NA's I've read because of the tattoos!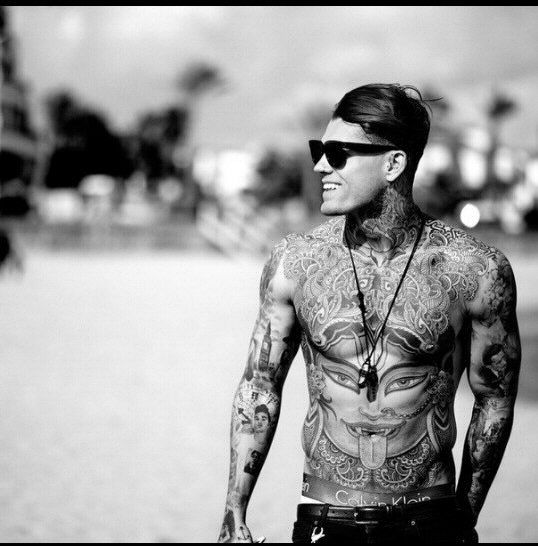 Harper Connelly has been running from her horrific past for four years.  She's made a quiet life for herself in Miami working at her friend's coffee shop, but nothing can hide the scars on her back–a constant reminder of her past.  Nothing until she finds herself outside the Trent Andrew's tattoo studio.  When she asks him to help her cover them up with an epic tattoo, Trent is more than willing to help her.  As he works on her back, they discover that there's more to each other then they thought.  However, when cryptic messages and veiled threats start filling up Harper's phone, she knows her past has finally caught up with her and she's faced with a choice–run like she always has or stay and fight.
This was a great, fast, summer, NA read.  I really enjoyed Harper's story, as tragic as it was, and watching her grow throughout her arc.  As much as she's hiding from life, she really does try and make the best out of everything and Trent slowly allows her to do that even more.  Trent was great.  He brought out the best in Harper and showed her that living a half life is no life at all (I feel like that's very reminiscent of a Harry Potter movie quote….).  They bring out the best in one another and Harper finally comes out of her shell while Trent learns to trust again.
The plot moved fairly well.  Like I told Nikki and Sarah, it was a bit dramatic at times, but not Abbi Glines dramatic (you'll know exactly what I mean if you've read any of her books).  It definitely moved and didn't suffer from the no communication thing that I absolutely abhor.  The other characters made it interesting with their dynamics especially Drea and Cujo.  The animosity between those two made it hysterical at times.  I think their story is next in the series and I can't wait to get started on it!
If you're looking for a quick summer beach read, pick this one up! It's sure to keep you entertained and will definitely pull at your heart strings.  Also, men with tattoos….hotness overload.  Your welcome.