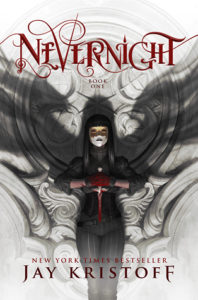 Title: Nevernight (The Nevernight Chronicle #1)
Author: Jay Kristoff
Genre: Fantasy, YA (but more like NA/Adult)
Publisher: Thomas Dunne Books
Publication Date: August 9, 2016
Pages: 448
Buy: Amazon

In a land where three suns almost never set, a fledgling killer joins a school of assassins, seeking vengeance against the powers who destroyed her family.

Daughter of an executed traitor, Mia Corvere is barely able to escape her father's failed rebellion with her life. Alone and friendless, she hides in a city built from the bones of a dead god, hunted by the Senate and her father's former comrades. But her gift for speaking with the shadows leads her to the door of a retired killer, and a future she never imagined.

Now, Mia is apprenticed to the deadliest flock of assassins in the entire Republic—the Red Church. If she bests her fellow students in contests of steel, poison and the subtle arts, she'll be inducted among the Blades of the Lady of Blessed Murder, and one step closer to the vengeance she desires. But a killer is loose within the Church's halls, the bloody secrets of Mia's past return to haunt her, and a plot to bring down the entire congregation is unfolding in the shadows she so loves.

Will she even survive to initiation, let alone have her revenge?
Ok.  This book, guys.  Wow. I almost didn't finish it, but I am SO happy I decided to continue!
Mia has been orphaned in the most tragic of circumstances and vows revenge for her family.  With her gift of the shadows and her ever present companion, Mister Kindley, she knows in order to have her revenge she must become a Blade–a legendary assassin and member of the Red Church.  Once she's there however, the road to initiation is far from easy.  Will she persevere and make it to initiation? Or will other sinister plots keep her from seeking her revenge for good?
I'm not going to lie.  This was a tough one to get through.  I was about a hundred pages in or so and I seriously debated whether or not to continue (by the Goodreads reviews, you can see I'm not alone).  It wasn't because of the violence or sex (and believe me this book is chock full of it), but I just couldn't get into the writing style.  It was a bit over the top and way too descriptive to the point of distracting.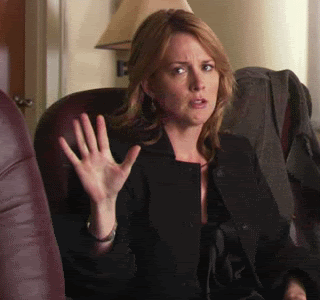 Also, the footnotes made it a bit annoying while reading on my Nook, so if you plan on reading this, I'd go with the hardcopy! I decided to persevere after talking with Cassi and boy am I glad I did!! This book just took off after that! Just make it through those first few chapters guys, and I promise you, you won't regret it.
Mia was such a kick-ass, awesomely flawed character.  You grieve for her and what the Republic did to her family.  Her time at the Red Church had you rooting for her to succeed, but at the same time you felt the opposite because of the sheer violence of what she's asked to do.  I won't reveal much in that sense but the ending perfectly addresses that which I think was brilliant. Tric. Oh Tric!! I hearted him greatly.  I loved his relationship with Mia and the fact they reluctantly fall in love with each other.  They keep each other human, which was wonderful to see.  Ash, the Shahid's, Jessamine, Naev, and the rest of the supporting characters were excellently developed.  You were just as invested in their stories as you were Mia's.
The plot, aside from a rather slow beginning, moved really fast.  It kept you guessing left and right as to what would happen next.  And that TWIST!?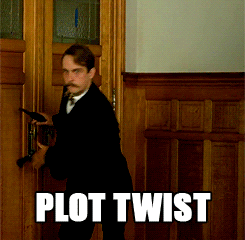 Holy moly.  Guys. I did NOT see that coming.  The ending left you with many unanswered questions that Cassi and I have already started theorizing about.  The world building was also well done.  An alternate Italian/Venice-like reality.  I have a feeling we'll be seeing even more in the upcoming installments.
I should warn you though, this is not your typical YA book.  There is a lot of violence and sex within the book that reads more like a New Adult or Adult fantasy book.  The book is technically considered YA because of the main character's age, but it deals with some rather mature content that isn't usually addressed in typical YA.
This was one of the best fantasy books I've read in a while.  I'm definitely itching for the next one.  I read this article recently which got me thinking this would make a great book to TV or movie adaptation.  It has all the elements for an HBO series ala Game of Thrones.  I'd love to see that happen!! Regardless, I'd get on the bandwagon now because this is definitely going places people.
Now Jay–Can I have the next book??? Please???