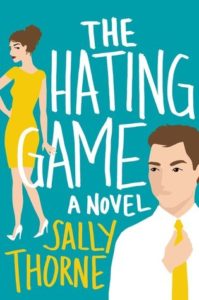 Title: The Hating Game
Author: Sally Thorne
Genre: Chick Lit.
Publisher: William Morrow Paperbacks
Publication Date: August 9, 2016
Pages: 363

Nemesis (n.)
1) An opponent or rival whom a person cannot best or overcome;
2) A person's undoing;
3) Joshua Templeman.

Lucy Hutton and Joshua Templeman hate each other. Not dislike. Not begrudgingly tolerate. Hate. And they have no problem displaying their feelings through a series of ritualistic passive aggressive maneuvers as they sit across from each other, executive assistants to co-CEOs of a publishing company. Lucy can't understand Joshua's joyless, uptight, meticulous approach to his job. Joshua is clearly baffled by Lucy's overly bright clothes, quirkiness, and Pollyanna attitude.

Now up for the same promotion, their battle of wills has come to a head and Lucy refuses to back down when their latest game could cost her her dream job…But the tension between Lucy and Joshua has also reached its boiling point, and Lucy is discovering that maybe she doesn't hate Joshua. And maybe, he doesn't hate her either. Or maybe this is just another game.
Oh how I loved this book!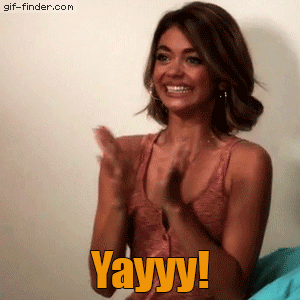 Lucy Hutton and Josh Templeman absolutely loathe each other.  Unfortunately, they're forced to work across from each other every day.  They each do their best to one-up the other in some petty office games.  Everything changes however, when they're both up for a big promotion at work.  Will they kill one another at last or will that aggression turn into something more?
What a fun, flirty, hilarious, and enjoyable jaunt this was! I thoroughly enjoyed reading this.  I was actually a little sad when it was over.  Lucy Hutton is just a really relatable character.  Besides relating to her on a height level, she's very open and bubbly and fun.  She was such a great juxtaposition with Josh–strict, firm and unyielding.  I loved what they brought out in one another though.  Even when they were fighting and playing their office games, they always managed to bring their A-game.  Their little office games were my favorite part of the story.  Purely petty, immature, and diabolical–loved every minute of them!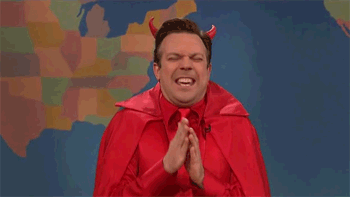 The story had me turning the page to see what sort of infamous thing they were going to do next to one another.  And when the sparks started flying, you couldn't wait to see how everything would play out.  I think what made this story for me was their relationship and their antagonism toward each other.  You were always wondering what silly little thing they were going to do next and secretly cheered for each of them as they struck a nerve with the other.
If you're looking for a fun, enemies to lovers romance, this is your book! Even if you're not, I promise you, you'll thoroughly enjoy yourself–I know I did!