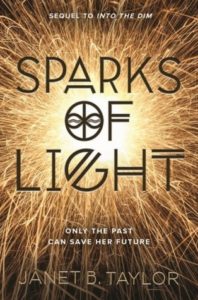 Title: Sparks of Light (Into the Dim #2)
Author: Janet B. Taylor
Genre: YA, Fantasy, Historical
Publisher: Houghton Mifflin
Publication Date: August 1, 2017
Pages: 448

For the first time in her life, Hope Walton has friends . . . and a (maybe) boyfriend. She's a Viator, a member of a long line of time-traveling ancestors. When the Viators learn of a plan to steal a dangerous device from the inventor Nikola Tesla, only a race into the past can save the natural timeline from utter destruction. Navigating the glitterati of The Gilded Age in 1895 New York City, Hope and her crew will discover that high society can be as deadly as it is beautiful.