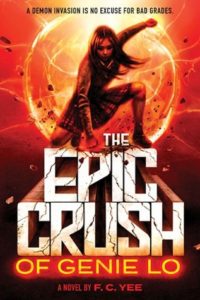 Title: The Epic Crush of Genie Lo
Author: F.C. Yee
Genre: YA, Paranormal, Fantasy
Publisher: Amulet Books
Publication Date: August 8, 2017
Pages: 336

The struggle to get into a top-tier college consumes sixteen-year-old Genie Lo's every waking thought. But when her sleepy Bay Area town comes under siege from hell-spawn straight out of Chinese folklore, her priorities are suddenly and forcefully rearranged.

Her only guide to the demonic chaos breaking out around her is Quentin Sun, a beguiling, maddening new transfer student from overseas. Quentin assures Genie she is strong enough to fight these monsters, for she unknowingly harbors an inner power that can level the very gates of Heaven.

Genie will have to dig deep within herself to summon the otherworldly strength that Quentin keeps talking about. But as she does, she finds the secret of her true nature is entwined with his, in a way she could never have imagined…
So I feel like I'm in the minority with this one, but I just didn't like it.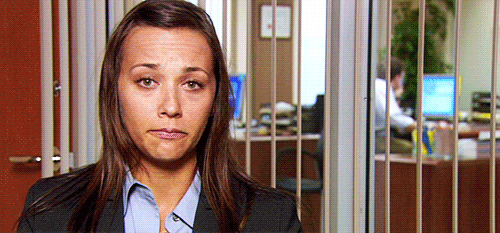 Genie Lo's biggest goal is simply to get the best grades possible and go to an Ivy League school–far away from home.  That all changes when she meets Quentin Sun–an infuriatingly handsome and equally annoying boy who also claims to be the Monkey King.  However, when demon spawn attack her and Quentin in broad daylight, Genie realizes Quentin might actually be telling the truth.  Now, they're on a mission to rid the Bay Area of all the escaped demons from hell.  All while keeping her straight A average.  No sweat.
I was actually really excited about this book when I got it at BEA. However, when I actually started reading it I just could not get into it.  And I tried. Believe me, I tried.  I almost didn't finish it.  Here was the major issue I had with it.
It was very elementary.  I know they're billing it as a YA book (I even double checked), but the style and language read more like a middle grade novel.  The problems were very heightened, but they felt like they came out of nowhere.  When they did occur, it felt superficial because of the writing style.  I felt as if the author was trying to be humorous in the descriptions, but to me it just came off as unbelievable.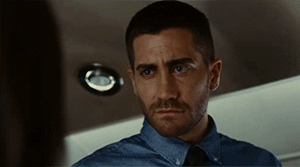 There were a few humorous moments, but they were far and few in-between for me.  Maybe it just wasn't my type of humor? I know a LOT of people found this book to be really funny, but I feel like I missed the memo on that.  I did enjoy the delving into Chinese culture and history.  There's not a lot of it in YA literature and I really loved learning more about it.  In fact, I researched more about the Monkey King because as mythical character he intrigued me (so there's that).
The characters didn't really do it for me either.  Genie is constantly drooling over Quentin, but it just didn't seem very genuine.  She was probably the most interesting character, but I wish they had delved more into her backstory.  They might be saving this for more installments (based on the ending), but I think it would have served the story a little better to have some more character development, especially with the secondary characters.  They were almost throwaways in this.
I could be wrong and I'm the only fluke reader to feel this way (according to a lot of other bloggers' reviews I am), but judge for yourself.  If you're looking for a YA novel that's a bit more silly and reads more like a middle grade one, than this is your book.  I was just expecting a bit more.