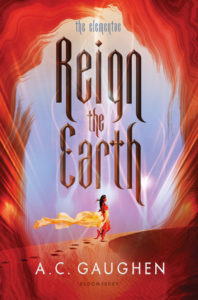 Title: Reign the Earth (The Elementae #1)
Author: A.C. Gaughen
Genre: YA, Fantasy
Publisher: Bloomsbury
Publication Date: January 30, 2018
Pages: 448

Shalia is a proud daughter of the desert, but after years of devastating war with the adjoining kingdom, her people are desperate for peace. Willing to trade her freedom to ensure the safety of her family, Shalia becomes Queen of the Bonelands.

But she soon learns that her husband, Calix, is motivated only by his desire to exterminate the Elementae—mystical people who can control earth, wind, air, and fire. Even more unsettling are Shalia's feelings for her husband's brother, which unleash a power over the earth she never knew she possessed—a power that could get her killed. As rumors of a rebellion against Calix spread, Shalia must choose between the last chance for peace and her own future as an Elementae.

This intense, richly drawn high-fantasy by the author of Scarlet will hold readers spellbound.
Oh. My. Goodness.  This book was just sheer brilliance.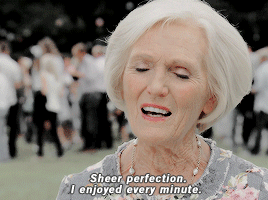 A daughter of the desert, Shalia agrees to marry the Calix, King of the Trifectate, in order to secure peace between their lands.  However, soon after they're married, Shalia realizes that Calix is not a merciful and just ruler, but is solely motivated by his hatred for the Elementae and their extinction.  When Shalia discovers she herself is an Earth Elementae she must chose between the man she's supposed to love, her people, and her very survival.
I am still in awe of this book.  Guys.  It was SO GOOD. It was the first book I read for 2018 and I'm hoping that's a sign because if every book is as good as this one, it's going to be a fantastic year! I loved Shalia.  Talk about an emotional journey of growth. She truly lives through horrors and comes out stronger because of them.  She was such a wonderful character to watch come alive on the page.  She had you rooting for her from day one–crying with her, laughing with her.  All the characters were like that though.
A.C. Gaughen definitely has a talent for writing complex, unique characters.  I loved the brooding and serious Galen and their slow burn romance.  I often found myself tensing up with anticipation every time they had a scene together.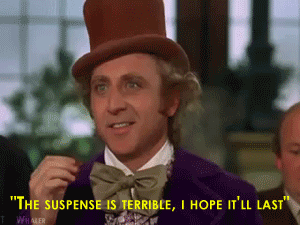 Her funny and charismatic brother Kairos is an all-time favorite of mine.  I have a feeling there's going to be even more backstory revealed about her other brother Rian and her best friend Kata.  I can't wait. I have to say though, I think what stuck with me the most and just brought this story to a whole other level was our nasty villain, Calix.  Wow.  Talk about abusive mind tricks.  I loved every minute of it, but more so, I loved how Gaughen was able to show the horrors of an abusive relationship in an honest and upfront manner, especially in a YA book.  Brava.
The story kept moving at a fast pace because the characters' relationships had you turning the page, dying to know what will happen to them next.  I loved the wonderful feminist elements throughout the story, especially through Shalia, but also the characters surrounding her.  It was a complicated world that Gaughan built and she manages to introduce three very different cultures brilliantly.  I'm hoping to see more of that in the upcoming books.
You definitely don't want to miss this one guys.  Pre-order it, buy it, get it at the library, but make sure you read it the day it comes out.  It's the kind of story that leaves you feeling like you can do anything because you refuse to take any BS–from anybody.