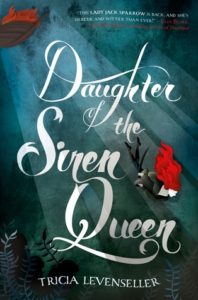 Title: Daughter of the Siren Queen (Daughter of the Pirate King #2)
Author: Tricia Levenseller
Genre: YA, Fantasy
Publisher: Feiwel and Friends
Publication Date: February 27, 2018
Pages: 352

Alosa's mission is finally complete. Not only has she recovered all three pieces of the map to a legendary hidden treasure, but the pirates who originally took her captive are now prisoners on her ship. Still unfairly attractive and unexpectedly loyal, first mate Riden is a constant distraction, but now he's under her orders. And she takes great comfort in knowing that the villainous Vordan will soon be facing her father's justice.

When Vordan exposes a secret her father has kept for years, Alosa and her crew find themselves in a deadly race with the feared Pirate King. Despite the danger, Alosa knows they will recover the treasure first . . . after all, she is the daughter of the Siren Queen.
This was a fun, adventurous conclusion to a duology for any Jack Sparrow fan!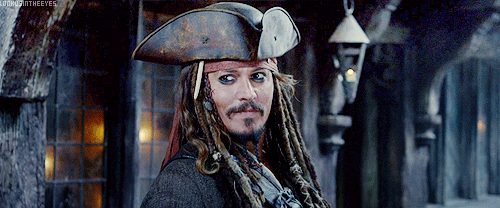 We pick up our story right after the events of Daughter of the Pirate King. Alosa has managed to pull off the impossible and gain all three pieces of the treasured map her father so desperately wanted. She's looking forward to the day when she finally gets to bask in the treasure and see her nemesis, Vordan pay for what he did to her. However, when she learns of a secret her father has been keeping from her for years, Alosa must finally decide where her true loyalties lie.
So I really enjoyed this duology as a whole and this was a perfect conclusion to a fun, pirate-y tale! Alosa is such a great character.  She's strong, vulnerable, ruthless, conniving, passionate, and infuriating.  She's a pirate in the traditional sense that she enjoys staying on the wrong side of the law and getting what she wants, but her loyalty and devotion to her crew are what keep her human.  We really see her grappling with this dual personality of hers–her human side and her siren side–in this conclusion.  I loved her interaction with Riden and that of her crew.  We see a different side of her than we did in Daughter of the Pirate King just through her interaction with them.
I loved the addition of her crew in this one.  They were all great fun with journeys and stories of their own.  I do wish that some of them were a little more fleshed out, but they were still enjoyable.  Riden and his brother's story line are, in my opinion, glanced over.  I feel like that could have been fleshed out a little more. Also, without getting spoiler-y, I was a little put off by the Siren Queen storyline and her interaction with Alosa. It was almost too cookie cutter perfect. I would have enjoyed a little more tension than what was presented.
The action is in keeping with that of the first book–fast-paced, fun, humorous, dangerous–everything you want out of a pirate book! It definitely kept me turning the page.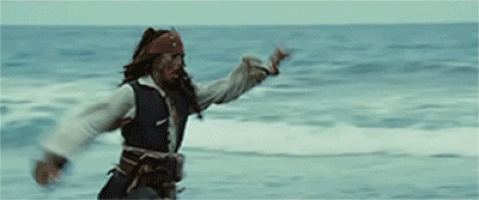 Fans won't be disappointed in how Alosa's story is concluded–I definitely wasn't!