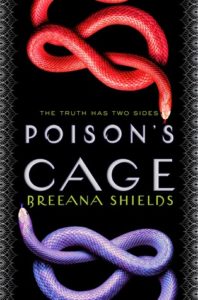 Title: Poison's Cage (Poison's Kiss #2)
Author: Breeana Shields
Genre: YA, Fantasy
Publisher: Random House Books for Young Readers
Publication Date: January 16, 2018
Pages: 336

*****Spoilers for Poison's Kiss in the description*****

A single kiss could kill. A single secret could save the kingdom.

Iyla and Marinda have killed many men together: Iyla as the seductress, Marinda as the final, poisonous kiss. Now they understand who the real enemy is—the Snake King—and together they can take him down. Both girls have felt as though they were living a lie in the past, so moving into the King's palace and pretending to serve him isn't as difficult as it sounds. But when you're a spy, even secrets between friends are dangerous. And each girl has something—or someone—to lose. Does every secret, every lie, bring them closer to the truth or . . . to a trap?