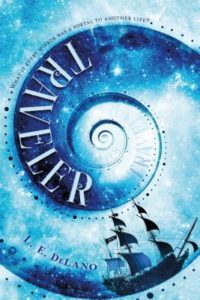 Title: Traveler
Author: L.E. DeLano
Genre: YA, Fantasy, Sci-Fi
Publisher: Bloomsbury
Publication Date: February 7, 2017
Pages: 352

Jessa has spent her life dreaming of other worlds and writing down stories more interesting than her own, until the day her favorite character, Finn, suddenly shows up and invites her out for coffee. After the requisite nervous breakdown, Jessa learns that she and Finn are Travelers, born with the ability to slide through reflections and dreams into alternate realities. But it's not all steampunk pirates and fantasy lifestyles…Jessa is dying over and over again, in every reality, and Finn is determined that this time, he's going to stop it… this Jessa is going to live.